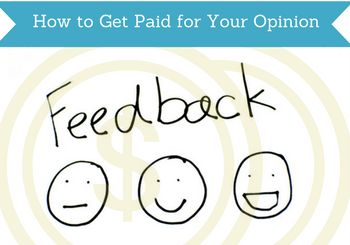 Since you are on this page, you have probably heard that it is possible to make money by sharing your opinion, and are curious about how it works.
I have myself been earning some side money like this for several years now.
There are several ways to do this, and I have tested many ways, and in this article, I will show you how to get paid for your opinion and 3 easy ways you can do this.
All of these ways are completely free and anyone can do it.
Why get paid for your opinions?
Before getting into how to do it, let's first look at some reason why it might be worth considering sharing your opinion for money.
One obvious reason is that it is nice to make some extra money. But there are also other reasons than money to share your opinion.
Through the link above, you can read a whole article I have written about reasons beyond money to get paid for sharing your opinion but I just want to point out a few things here.
An important aspect is that it can be a great way to get influence.
If you have an opinion about products, companies, politics, services, etc., it can be nice to have it heard, but it can be difficult to get through with your opinion.
But companies that are doing market research and that are willing to pay you to participate, are doing it because they want your opinion and want to be able to adjust their services, products, etc. according to the feedback.
So by using one of the methods below, you can directly influence companies and governments, and at the same time make a bit extra money from it.
Also, it is something you can do no matter where you live and at the time of the day/night that fits you. However, it is also important to do it with thr gith expectations.
How much can you earn by sharing your opinion?
To enjoy sharing your opinion and using the methods that pay for this, it is important to do it with the right expectations.
As mentioned in the beginning, the money aspect is not the only reason to participate in surveys or group interviews. But of course, it is also important to know how much you can actually make this way.
It is really difficult to say exactly how much you can earn, as it depends on a number of different things like for example where you live, your age, your interests, how much time you are willing to spend, etc.
Some people do it because they want to create a full-time income online and think this sounds like an easy way.
So let me just make this clear right away – you will NOT become rich from sharing your opinion and you will NOT be able to make a living from it from these free methods.
It can be a great way to make some extra cash on the side, but you need to do it with the right expectations.
If any site or platform is promising you will get rich or make huge amounts of money with only a few minutes a day by sharing your opinion, it is most likely a scam or a site just trying to sell you a dream to make money itself.
Without the right expectations, it will be disappointing, but with the right expectations, sharing your opinion can be a great way to make some extra money, have your opinion heard, and also be quite fun at times.
Now let's look at 3 easy ways to share your opinion and earn some extra cash that way.
Method #1 – Online surveys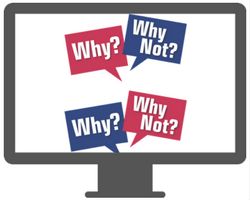 Online surveys are a great and easy way to get paid for your opinion. It is very easy and can be done whenever it fits into your own schedule, and does not require any form of training or specific skills.
Because of these reasons, and because it is possible to take part in quite a lot of surveys this way, if you want to, this is my favorite method and the one I have had the most success with myself.
Online surveys are offered through different survey sites. One thing that is important to know is that it is however not all survey sites that are legit and some are legit, but just a waste of time.
But if you join the best and legit survey sites, it can offer a lot of opportunities.
Be aware that the amount of opportunities varies greatly depending on where in the world you live. English-speaking countries have by far the most opportunities, but other countries have great opportunities as well.
I have done thousands of online surveys and tested many sites and I can tell you from experience that this definitely a real way to earn if you are doing it with the right expectations, as mentioned earlier.
Below you can find a link to the survey sites I have found to be the best and give the best opportunities. There are lists for different countries so you can find the best options for YOU.
On the lists, you will also be able to see what kind of payout method they offer, the payout threshold, etc. so you quickly can find the ones that are the most relevant for you.
==>Click to see the Best Survey Sites in Your Country<==
Method #2 – Apps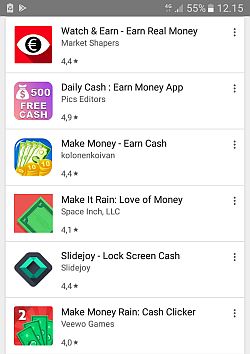 There are many "earn money" apps that also offer some surveys. You can just go to your app store and try to write "earn money" and a long list of apps will come up.
I have tried several of these apps, and it is difficult to find good ones. I myself have not really been able to find any really good ones, but have of course also not tested all.
The only one that I have found to be nice and easy is Google Rewards App – it will however only make you very little but it is very easy to use and the surveys there takes very little time.
There are however a number of survey sites that also have their own app.
An example of the very popular survey site Swagbucks that has a great app. So if you join a survey site you like, and it has an app, there are good chances the app will also be great to use.
If you want to make money through sharing your opinions on the go, your best chance is therefore to find the app of the good survey sites or simply log in to the survey sites you are a member of on your mobile and do the surveys that way.
Personally, I think using the survey apps are great because it makes it easy to earn a bit by sharing your opinion whenever you just have a few minutes to spare.
I have made a list of the best survey apps you can check out through the link below.
==>Click to See the Best Survey Apps<==
Method #3 – Focus groups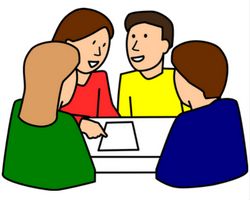 Another way to share your opinion is focus groups. As this is mostly not taking place online, it takes a bit more planning and more effort to find the opportunities.
It is often more local opportunities as you mostly have to show up in person for a group interview.
So if you are interested in these opportunities, you can do a local search and keep an eye on classified ads in your local area, as this will often be where you can find these opportunities.
But there are also survey sites that offer these opportunities online – an example of such a site is Survey Junkie.
There are some more local survey sites that also sometimes do screenings and invite certain members for focus group interviews.
I have myself tried this in Northern Europe where I live. A local survey site I was a member of, invited me for a focus group interview after having done a screener survey online. It has however only happened once out of thousands of surveys, so not the best and most effective way to find the groups.
An advantage of focus groups is that often they give a pretty good compensation in relation to the time spent. Often it will however not be in cash but as vouchers.
But if it is useful vouchers, it is as good as money and there are also companies that offer you cash for participating. The disadvantage is that there are not that many opportunities, and they can be hard to find.
So if you would like to make some extra money on regular basis, focus groups are not the best way, but when you see the opportunities, it can be a great addition, and also be quite fun to participate in.
Final thoughts
Making money on your opinion can be great if you find the right method for you.
Both to have your opinion heard and making a bit extra cash is, in my opinion, a great opportunity, and something that I have benefited a lot from myself.
Of the methods above, the one with the biggest potential and biggest freedom is online survey sites.
You can always choose which surveys you want to do, and when you want to do them. And it can also be great to use the survey sites on your mobile or download an app for the survey sites that offer this, to get more flexibility and be able to do surveys when you, for example, are waiting in line or waiting for the bus, etc.
If you decide to give online surveys a try, just remember that not all sites are legit. If a site tries to charge you a fee for joining, stay away from it.
If you have a look around my website, you can find a lot more information about which sites to stay away from, and which sites that are great to join.
You can also start by checking out my top 10 paying survey sites through the link below.
==>Click to See the Top 10 Paying Survey Sites<==
If you have any questions or comments, I would love to hear from you in a comment below.