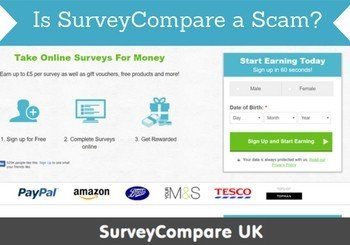 At first sight, SurveyCompare looks like a normal survey panel with a lot of opportunities.
But is SurveyCompare a scam or really full of opportunities?
In this SurveyCompare review I will give you all the details about what you really get from joining. As you can see from the headline of this review, it is not a survey panel I am very impressed with.
But do not just take my word for it – continue reading and see what it has to offer, and then decide for yourself, if it is worth joining for you or not.
If you instead want to go directly to my top recommended survey sites that are definitely worth your time, just click the link below.
==>Click to see the top recommended survey panels in your country instead
What is SurveyCompare and what does the site offer?
SurveyCompare.net is also known as SurveyCompare UK, but it also has sites with many other endings for different countries. It is the same kind of website, but you might find it with different names in different countries.
The company behind the SurveyCompare is Marketing VF Ltd, which is a company based in the UK. However, it is unclear to me what this company actually is, as I will explain later.
Let us first go over what SurveyCompare offers:
Access to paid surveys:
When you first come to SurveyCompare's website, it looks more or less like any legit survey panel.
It clearly shows that you can sign up for free, take surveys, and then get paid in cash or rewards. And you can easily find the button to sign up for this.
There is also pictures of the rewards you can earn like PayPal, Amazon, gift cards, and more. This is all very normal, and it looks like you can just sign up and start taking surveys.
However, it is not like a normal survey panel – it is in fact not even a survey panel. It is a site that is build to recruit members for survey panels. Nothing as such wrong with that. I am also happily referring people to the survey sites that are worth joining.
I do however think SurveyCompare is not honest about what it offers, if you sign up.
What happens when you sign up for SurveyCompare:
When you sign up you have to fill out your contact info like on any other survey site. The next step does however not take you into a platform, where you can start taking surveys. You are instead getting a list of survey sites they recommend you to join.
You do not sign up for them right away, but just select the ones you think sound interesting. When you have chosen the survey panels you want to sign up for, you can continue.
All you now get is a message saying you have to check your email, and then have to click the link to each survey panel in the email to sign up for them. You do not get access to SurveyCompare as such – you just sign up and allow them to send you links to survey sites, so they can get paid a commission.
What I do not like about SurveyCompare's approach is that it is misleading – it is set up, as you are going to sign up for a survey panel, but you do not get access to any. You just receive a link, and then you have to sign up for the actual survey sites.
Below I have made a small video showing when I am going through the sign-up process for SurveyCompare, so you can see for yourself what it looks like:

In my opinion a complete waste of time, as it does not provide any value to sign up for SurveyCompare. It is just an extra step you have to take instead of just signing up directly at the survey sites.
Furthermore, the email I got with links did not contain links to the survey sites I actually chose. It just contained a link to a completely different survey panel. This is confusing, and I found many other confusing and strange things about SurveyCompare as well, as I will show you later.
But basically all you can do on SurveyCompare is to sign up to have them send you some links. However, to be fair I want to mention that all the survey sites I have seen they send link to are legit survey sites, and they are not trying to get you to sign up for the scam sites that cost you money. In my opinion it is still not worth joining, but at least they only promote legit sites.
Recommended: Click to See My Top Recommended Survey Sites
How do you get paid?
You actually do not get paid on SurveyCompare itself. Even though you can see images of PayPal, Amazon, etc. on the website.

But as already mentioned, you do not as such become a member of SurveyCompare. You just get link to survey sites. So you will also not get paid by SurveyCompare, but by the individual survey panels.
The rewards they show and mention are real – you can get paid through PayPal when taking surveys, which is my personal favorite method, and gift cards, and Amazon are also very often available on survey sites.
So in that sense the rewards are real, but you will just not get them from SurveyCompare.
Who is really behind SurveyCompare?
I have already mentioned that Marketing VF Ltd is behind SurveyCompare. However, I found some very strange things in relation to this, as I was researching and testing SurveyCompare.
I am not sure what the info means, but I think it is important to know.
I wanted to known more about Marketing VF Ltd, but it was difficult to find any real info. I found the name and location listed a couple of places, and both times it said it is in London. However, what is very strange is the links to the company website.
On Bloomberg.com there is a link to the company website address, but it is a link to a website that compares solar panels, which has nothing to do with survey panels.
On LinkedIn there is instead a link to a website that compares prices on franking machines.
It looks like the company has several websites that are similar to SurveyCompare, but just within other niches. Nothing wrong with having more websites, but it seems strange that the info I was able to find online is so inconsistent.
Furthermore, on the official SurveyCompare Facebook page the official website link takes you to a blog about how to save money, and the blog has not been updated since 2017.
For me this sends a signal that the company has too many things they are trying to send me to, and in different directions, and there is a lack of quality in my opinion.
Signs SurveyCompare is not worth it!
It is probably clear to you already that I do not think it is worth joining SurveyCompare. I however want to mention one more thing I noticed on the website.
There is some information about some survey sites. Mostly just factual info about what kind of rewards the different survey sites offer etc. But there is also user reviews displayed below these survey sites. User reviews can be great, but they can unfortunately also easily be manipulated or faked.
It says you can leave a review on the site, but I was not able to, so not sure where they come from. However, many of them does not seem natural. Let me give you an example.
The above review is of the survey panel GlobalTestMarket, which is definitely a legit platform worth joining. But come on – who writes a review like that?
It really does not sound natural, and in general the star ratings of the survey panels are very high. This is not really natural compared to how people usually write reviews on similar sites.
I am not saying that I can know for sure some reviews are fake. I am just saying many of them do not look natural. And I have previously worked in an online marketing agency that hired people to sit and do reviews like this online for their clients, so I known it definitely takes places.
I do however want to make it clear this has nothing to do with the survey panels themselves. It is the reviews on SurveyCompare I think look suspicious.
Who can join?
If you are still interested in joining, you of course need to known who can join. As the name is SurveyCompare UK, you have probably figured out that it is only people from the UK, who can join. Or more correctly – people who write a UK postal code, when they sign up.
However, SurveyCompare does also have websites for many other countries, but where it offers the exact same opportunities (or offers the same lack of opportunities)
SurveyCompare does not have very strict control when you sign up, as you do not as such become a member. So you could potentially sign up for a platform from a different country than where you live, as long as you just write a postal code for that country.
In general, I do not think it makes sense to sign up for SurveyCompare. There are so many great survey sites, so there is no reason to waste your time on SurveyCompare. Just go to some of these great sites directly and sign up there.
Final thoughts
Here at the end, I just want to sum up the pros and cons of SurveyCompare to give you a better overview.

Pros:
Only promotes legit survey sites
Free to join

Cons:
You do not really become a member
Not clear what you are getting
Provides no real value
Difficult to find info about who is behind
Reviews on the site seems suspicious
To be fair I want to say that it is not dangerous to join SurveyCompare. It is only promoting legit survey sites, and it is free to join. BUT in my opinion it is a complete waste of time.
You do not get any value out of signing up, it is nothing but a bunch of links, and they do not even send the right links. Furthermore, it seems strange that it is so difficult to find out exactly who is behind, and some reviews on the site looks suspicious or manipulated.
Overall, if you want to make money by taking surveys, there are great opportunities, but SurveyCompare is not one of them. You can click the link below to see my top recommended survey sites, where you will not waste your time.
==>Click to See List of The Top Paying Survey Sites<==
If you have any comments, questions, or have any experiences with SurveyCompare yourself, I would love to hear from you in a comment below.
SurveyCompare
Money/time ratio

Frequency

Usability
Summary
SurveyCompare look legit, but you do not necessarily get what you expect. The site only works with legit survey panels, but you will not get any value out of signing, and you will not as such be able to make money on SurveyCompare. So there are many sites that are a lot better to join.