Scarlet Clicks is a PTC site that at first looks like it might be an easy way to make some extra money online.
But is Scarlet Clicks a scam or is it really a legit and good way to invest your time?
I have joined and tested the site myself to learn all the details about what this site has to offer.
In this Scarlet Clicks review, I will share all the details with you, so you can easily see if it will be a platform for you or not.
Let me reveal right away that I do not think it is a site for everyone. As you can see from the headline, I will, for example, show you 5 reasons it might NOT be for you.
What is Scarlet Clicks and what does the site offer?
Scarlet-Clicks.info is first of all known as a PTC site (paid-to-click), but it also has other ways you can earn there.
In my opinion, it can at first be quite confusing to figure out how to navigate on the platform and to find out what it offers when you first log in.
So below I will go over the main things it offers, so you can see if it will be relevant for you. I have also created a video tutorial so you can have an indie look, or you can read all the details below the video:
Option 1 – Get paid to click ads:
As mentioned, Scarlet Clicks is, first of all, a PTC site, which means you can earn by clicking small ads. You can find this option in the main menu under the tab "View ads".

You can see on the ad how much you will earn before you click it. You then click it, you have to watch the website it takes you to for a certain number of seconds, and then do a captcha. After this, you will get paid.
The ads usually pay somewhere between $0.0001 – $0.001 per ad and you have to watch them somewhere between 5-15 seconds. The higher the reward, the longer you have to watch it.
As you can see, the rewards for this are really low. It is of course also really easy to do, but it will take A LOT of clicks to make any real money.
If you like this option, you can, however, find more ads to click than through the main "View ads" tab. You can also find several more PTC options through the menu tab "Earn more".
The rewards will, however, be approximately the same, so still not big money you will be able to earn.
Option 2 – Refer people:
By just clicking ads on Scarlet Clicks, it will take a lot of patience to earn.
A way many people instead try to earn is by inviting other people to join and earn commissions like this. You can find promotional banners and more you can use to get people to join through your link.
When a person joins through your link, you will earn a commission every time that person earns. Exactly how much you will earn depends on your membership level (more about this later).
But be aware that even though this might sound tempting, it is not as easy as it sounds. It will take a lot of work and a lot of referrals to earn any real money.
I often see people try to promote a site like this by spamming their link wherever they can – including for example in comments here on PaidFromSurveys.com.
If this is your approach, you will need to do a lot of work, and you will probably end up getting banned from many sites and platforms for spamming.
So if you plan to promote Scarlet Clicks to get referrals, just be aware that it takes time and I will encourage to not just do it by spamming your link wherever you can. It is not really effective, and at the same time, you also annoy a lot of people doing it.
Anyway, another way you can get referrals on Scarlet Clicks is by renting or buying referrals on the site.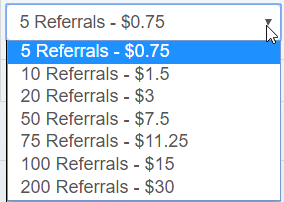 The price depends on how many referrals you will rent. You will rent them for one month at the time.
The way it works is that any person that has NOT joined through another person, will be able to be rented out as a referral.
You will however not know the quality of the referral you rent. You might be lucky that it is really active people you rent, but you might also end up renting referrals that do not have any activity at all, which means you will earn nothing.
Instead of renting referrals, you can also choose to buy. This cost a bit more, but the referral will then be yours for life.

As you can see in the image above, Scarlet Clicks does however NOT guarantee the activity of the referral. This means you can end up buying referrals that have no activity and thereby just waste your money.
So, in my opinion, the idea of renting and buying referrals is a bit risky and kind of like gambling.
If you decide to give it a try, I would suggest only to use what you have already earned on Scarlet Clicks and not invest extra money until you have tested how it works for you.
Also, be aware that to earn anything from your referrals, you have to be active on the platform yourself.
You will only earn from referrals if you have clicked a minimum of 4 ads the day before. So if you miss any day, you will not earn the following day.
Option 3 – Advertise:
If you have a website or some kind of other site you would like to promote, you can buy advertisements on Scarlet Clicks.
The platform is clearly driven by advertisements – that is also how you can earn by clicking ads. So it is naturally also possible to buy ads there yourself.

The price depends on the types of ads you want to buy. You can see a few examples in the image above.
I do not have a problem with Scarlet Clicks having advertisements as they, of course, need to make money and it is a part of the whole business model they have.
What I do, however, not like is that there are advertisements EVERYWHERE on the site. Some of the ads even cover some of the content at times so it becomes difficult to navigate.
This is, in my opinion, annoying and makes the overall experience of the platform worse and less user-friendly.
Option 4 – Traffic exchange:
If you have a website you want to advertise but do not want to invest any money, Scarlet Clicks offers you to participate in a traffic exchange.
This means that you will visit other websites. You will earn credits when you do this, and these credits can then be used to request other people to visit your website.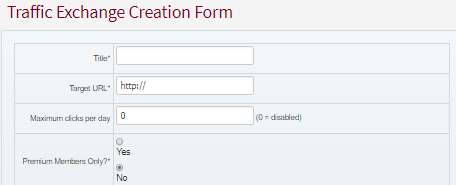 You can choose if you only want premium members to be able to visit your site and which countries people should be from.
This is only relevant if you have something to promote. But even if you do, be aware that the quality of the traffic will not necessarily be very high.
Most people that participate in this traffic exchange will do it to get credits to get visits and not because they are actually interested in seeing what you have to offer.
So it will very likely be a very difficult way to get any sales from promoting like this, but you can, of course, give it a try, as it does not cost anything (except the time you spend to visit other sites).
Option 5 – Get paid to sign up for offers:
You can find quite a few offers you can get paid to sign up for on Scarlet Clicks. You will find this option through the main menu under the tab "PTSU" (paid to sign up).

These are basically people that are promoting their links here and pay to do this. You will then get paid to sign up through the links.
The rewards will be between $0.05-$0.50 per sign up. Many of the sites are similar to Scarlet Clicks, but you can also find a survey site like for example ClixSense, as you can see on the image above.
This is not a way to earn big money and you need to make sure to read the conditions before signing up. Many of them will have a certain number of days you have to be active on the other platform to get your reward.
And the rewards are quite small so it will take a lot of signing up to earn any real money.
If you like to get paid to sign up for offers, you can instead check out the list of the best GPT sites – many of these have great offers that can earn you really good rewards with less effort than what you have to do to earn through offers on Scarlet Clicks.
Option 6 – Contests:
Scarlet Clicks offers a few contests you will automatically participate in when you are active on the platform.
Or maybe I should say that the platform supposedly offers contests once in a while. At the moment of writing this review, there are no active contests and it does not look like there has been any for a while.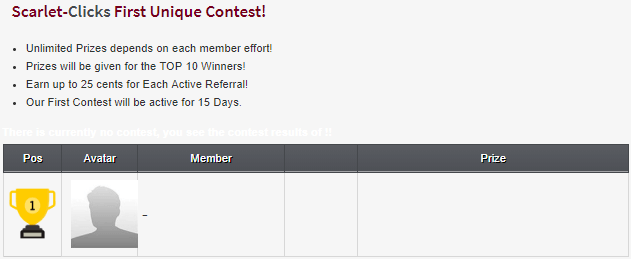 The contests are however still displayed on the website, and you can see there at times are points contest and referrals contest.
But as you can see in the image above for the referral contest, there is no data at all, and it does not look like there have been any contests and there are no contests planned as far as I can see.
The points contest, where you get a prize to earn the most within a certain period, is also not active at the time of writing this review. The last one was active more than around 2 years ago.
So not sure why the contests are displayed on the website. Maybe they are planning to launch them again at some point, but at the moment they have been inactive for a long time.
But if you decide to join, it might be worth checking once in a while if they have started the contests. But from what I have seen so far, you should not expect too much from this.
Scarlet Clicks membership levels
I have already mentioned that Scarlet Clicks is not the most user-friendly platform. To add to this, it has several membership levels that make it even more confusing.
You can be a free standard member or upgrade to silver monthly, silver yearly, gold monthly, gold yearly, or diamond.

The above image shows a few of the details about each membership level. There are however a lot of details about each, so I will not show the whole table here.
What is, however, important to know is that only the standard membership is free. The rest cost either a monthly or yearly fee starting from $5 per month up to $700 per year for the diamond membership.
The higher the membership you have, the more benefits you will get. The commissions you will earn from referrals' clicks, what you will get if referrals upgrade, how many referrals you can have, and more, are affected by your membership level.
Overall, I am however not impressed with the opportunities. Even though you get more benefits with a diamond membership, you really need to be very active to earn that money back.
And first of all, the membership levels also make it clear that to make any real money, you need to go out and recruit a lot of other people to join.
Personally, I prefer sites where this is not a prerequisite to earn real money and where you do not have to pay to get better chances.
I am not against membership levels as such but do just not like the way they are used at Scarlet Clicks.
A site like the GPT site PrizeRebel, for example, has membership levels. All the levels are however 100% free. You will get a higher membership the more active you are, and you have very good earning opportunities without having to recruit others – personally I prefer sites like this.
How do you get paid?
If you decide to join Scarlet Clicks, it is, of course, important to also know how you can get paid.
It offers quite a lot of payout methods. When you join, you will see a list of these during the sign-up process.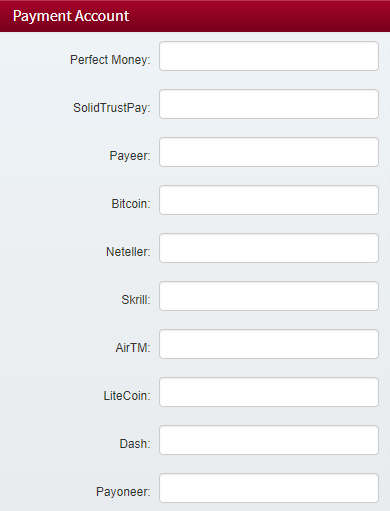 You can however also decide later which methods you want to use.
You can, for example, get paid through Payoneer, Bitcoin, Dash, LiteCoin, Skrill, and more.
Several of these methods are definitely good ways to get your money. However, you will notice that Scarlet Clicks does NOT offer PayPal as a payout option even though it is one of the most popular payout methods on get-paid-to (GPT) sites in general.
I know that PayPal often do not work with PTC sites, as sites like this often have a bad reputation. So if you only want to join sites that offer PayPal, you can instead check out a list of GPT sites that offer PayPal.
However, many of the other payout methods will also be fine to use. I know from personal experience that Payoneer and Skrill are great. I have not used the other platforms, but you can find methods for more or less any preference.
One thing I like about Scarlet Clicks is that the payout threshold is very low. You can get a payout once you have earned only $2.
However, with the size of the rewards for clicking, it can still take you some time to get there, if you only use this earning method.
How much money can you make?
You might be wondering if there is a clever Scarlet Clicks strategy that will make it possible to earn really good and easy money on this platform.
I would say that in my opinion and experience, there is no easy and quick fix or trick to make really good money here.
To make really good money, you need A LOT of referrals – and you need to get high quality and active referrals. To get the most out of these, you need to upgrade your membership.
If you are not a very experienced marketer, it will likely be very difficult to make good money here. And if you are a very experienced marketer there are products you, in my opinion, can promote that will give more value for both you and the people you promote to.
In general, PTC sites are not a fast way to earn online. The low rewards are one of the main reasons I rarely think these sites are really worth the time – that also goes for Scarlet Clicks in my opinion.
I instead prefer GPT sites where you often can find many more earning methods (like for example surveys, tasks, offers, and more) – and they are still free and you do not have to pay to get better earning opportunities.
Can you use it on mobile?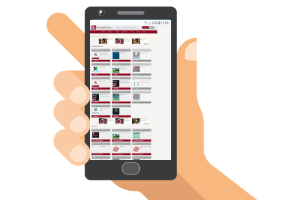 Being able to use Scarlet Clicks on mobile would make sense since you could then just log in on the go and spend a few minutes once in a while.
In theory, you can use the platform on mobile devices, but it is not really optimized for mobile
This means everything is very small and you have to scroll in and out a lot and it takes some patience.
This is another way Scarlet Clicks, in my opinion, is not very user-friendly. Yes, you can use it on mobile, but in my opinion, it is not really a good experience.
Who can join Scarlet Clicks?
An advantage of Scarlett Clicks is that you can join no matter where you live.
The number of ads available might vary depending on your country since advertisers can choose which countries they want their ads displayed in.
But you can join and earn a bit to click no matter where you live.
Can you get support?
Being able to get support is, of course, important for any online service.
Scarlet Clicks has both a forum and a support function you can contact.
From what I can see, the admin staff is fairly quick at replying when people post questions in the forum, which is a good sign.
If you have a question, you do not want to post in public, you can instead submit a support ticket.
I have not tried it do this myself, as I for the reasons I explain in this review have decided not to use the platform anymore, and therefore I have not had the need to contact support.
But if you should need support, it looks like it is definitely possible to get on Scarlet Clicks.
Final verdict – legit or scam?
Scarlet Clicks is legit as far as I can tell since you can earn a bit of money and can get paid through legit methods.
This does however not mean it will be a good way to earn. As I promised in the headline of this review, I will give you 5 reasons it might not be for you, as I definitely do not think it is a site for everyone.
To be fair I will, however, also mention the pros below so you can get a better overview before you decide if it is for you or not.

Reasons you might want to join:
Low payout threshold
Available to all countries

Reasons you might NOT want to join:
Low rewards
Limited ways to earn
You have to pay to upgrade membership
The main way to earn is by recruiting others
Not very user-friendly
Overall, I think the earning potential of Scarlet Clicks is too low because of the very low rewards for all the earning methods it offers.
In addition to this, I do not really like that to earn any real money, you seem to have to pay to get a higher membership and recruit a lot of new members.
For these reasons, it is NOT a site I recommend. If you want to earn some extra cash online, I would instead suggest you check out the best survey and GPT sites in your country.
These sites have many more earning opportunities, are easier to use, and give earning methods with a lot higher rewards. So in my opinion, sites like this give a lot more value for your time compared to Scarlet Clicks.
If you have any comments, any questions, or have any experiences with Scarlet Clicks yourself, I would love to hear from you in a comment below.