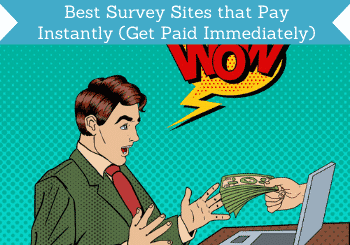 One good way to earn extra cash online is to join online rewards sites like survey sites and Get-Paid-To (GPT) sites. This is especially true if the site pays rather well. But it is a lot better if the site pays quickly.
Now, in order to figure out if an online rewards site does pay quickly, you will need actual experience or honest feedback about how long it takes for them to pay.
That's why I've decided to make a guide about the best survey sites that pay instantly.
I have tested hundreds of sites myself and know exactly which ones that will pay instantly and which ones will take a lot of patience.
Therefore, you don't have to try out every site you can find to see if they do pay immediately but just check out the list below.
All the sites I will be including on this list are legit and free to join. So, all you have to do is sign up and you can start earning right away.
Disclosure: Some articles on this website contain affiliate/sponsored links. Click for more info.
Do survey sites that pay instantly really exist?
This is a fair question to ask and if you Google it, you will typically find a lot of results listing down sites that have a low payout threshold. Technically speaking, I would say the sites they list down pay instantly because they have a low payout threshold.
However, the reality is, in most cases, you will still have to wait a while before you will receive the actual payment because these sites will take days or even weeks before they can fully process the payment.
So, while they have a low payout threshold, you still won't receive your money right away. You will only be able to process the withdrawal a bit faster.
Now, to answer the question above, it would a YES. There are indeed online rewards sites that will pay you instantly.
I know from personal experience after having used hundreds of survey sites and on the list below, I will show you survey sites (and GPT Sites) that make it possible to get paid immediately.
Just be aware that in a few cases, it might take a few hours before the payment gets credited. But that would still be a lot better than most where you typically have to wait days or weeks to get paid.
There are also times when some platforms will require further verification for the first payout. That is a common occurrence. But afterward, the payment process should be a lot faster.
How to earn the most?
The thing with survey and GPT sites is, they all offer different earning opportunities. So, you can't really earn a set amount from each site. So, it's a bit hard to put in an exact value of what you can earn from each site.
Instead, the better approach would to just maximize your earnings from these sites by participating in all the different earning opportunities each site offers.
I am particularly here referring to GPT (Get-Paid-To sites) where you can usually find many different ways to earn in addition to earning by taking paid surveys. So, just be sure to take advantage of all the earning opportunities a GPT site offers and you should be able to maximize your earnings.
Another thing you can do to ensure you earn the most from these sites is to join multiple sites. This strategy will give you access to more earning opportunities and in turn, you will earn more. That's really the logic to this strategy.
I would recommend you join around 5 to 7 sites if you are new to these kinds of sites. That would be the perfect number of sites to start so you won't get overwhelmed with what you have to do but still earn a decent amount.
Later on, if you feel like you can handle more, then you can just join more sites. That would be the best approach I can recommend.
11 best survey sites that pay instantly
All the sites on this list have good earning potential, great usability, and they offer convenient payment methods – and most important they pay instantly.
I will keep updating this list so make sure to bookmark this page and check back from time to time for new opportunities.