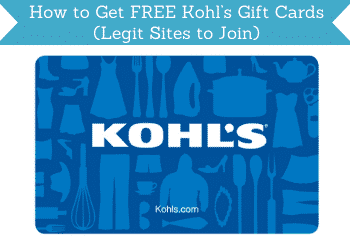 Do you frequently shop at Kohl's? If so, do you know there's a way for you to save money on your next Kohl's shopping spree?
You can actually use Kohl's gift cards to pay for your purchase. And the best thing about it is, you will be able to get free Kohl's gift cards online.
So, how can you get these gift cards from Kohl's? The answer is simple. You can join survey and Get-Paid-To sites and do small tasks in exchange for rewards you can convert to Kohl's gift cards. Of course, you also have the option to redeem other gift cards or even cash.
This guide will show you the best and legit sites you can join to earn the said rewards. They are all free to join, so you won't have to spend a dime to become a member.
Disclosure: Some articles on this website contain affiliate/sponsored links. Click for more info.
How to get free Kohl's gift cards?
As mentioned above, to earn Kohl's gift cards for free, you can join survey and Get-Paid-To (GPT) sites. If this is your first time hearing about these kinds of sites, let me explain how they work.
A survey site offers surveys you can answer for rewards.
When you are able to complete a survey, you will receive a reward for it. A GPT site on the other hand, offer more earning opportunities called paid offers.
These paid offers will usually ask you to also answer surveys or quizzes, play games, watch videos, download mobile apps, and a lot more. When you complete the paid offer, you will receive a reward.
These sites will usually have a threshold you need to reach before you can redeem a Kohl's gift card or another type of reward.
This guide will point you in the right direction so you can figure out which sites to join without having to test them.
This way, you will be able to save valuable time and be able to start earning rewards right away so you can get those Kohl's gift cards as soon as possible.
And as I've mentioned, all these sites are free to join, so you won't have to pay anything to become a member.
How many gift cards can you get?
The basic rule to follow with these sites is, the more surveys and offers you complete, the more you will earn.
So, you basically just have to invest some time on these sites to earn more. But seeing as these sites offer different opportunities, the best way to maximize your time and earnings is to join around 5 to 7 sites for a start.
In my opinion, this is the optimal number of sites to get yourself involved with to get a lot of earning opportunities but still have the time to get to know all the ins and outs of all the sites. Later on, when you get used to the grind and you feel like you can handle more, you can always join more sites to earn more rewards.
And as a reminder, all these sites also have other rewards you can redeem. So, if you feel like you have enough Kohl's gift cards at some point, you can still work on these sites and earn cash or other gift cards instead.
9 best sites to get free Kohl's gift cards
The list below is not a complete list of sites where you will be able to earn Kohl's gift cards. It will instead be a list of the best sites so you can get the most value for your time.
I will be basing this list on their time-to-money ratio, earning potential, payment methods offered, and payout threshold. I will keep updating this list if there are any new good sites to join so make sure to bookmark this page.