LifeCoin is an app that claims you can make your daily walks into something profitable. There are plenty of apps that offer this kind of earning opportunity. So, before you download this app, you have to make sure if it is legit or if it is just a scam.
That's why I've decided to make this LifeCoin review so you can find out if it really is legit or not.
You will also get a detailed inside look so you know exactly what to expect and can determine if this app is really worth it or not.
So, let's go ahead and examine everything LifeCoin has to offer, shall we?
What is LifeCoin and what does it offer?
LifeCoin at its core is a step counter app that will reward you for walking. Its goal is to motivate you to live an active lifestyle through the rewards it offers. It is a lot similar to another to another app called SweatCoin.
And yes, LifeCoin is indeed a legit app since it will really reward you for walking. Now, the question is, is it worth it? To answer that, we have to first take a look at the earning opportunities it offers. That way, you can fully understand how the app works and you can also get an idea of its earning potential.
So, here's how to earn on LifeCoin.
Option 1 – Walking
The main way of earning from LifeCoin is by walking. The idea is really simple, once you've installed the app on your mobile device, you just have to enable your device's GPS so that it can track your location and count the steps you've taken. Of course, that also means you have to bring your mobile device with you.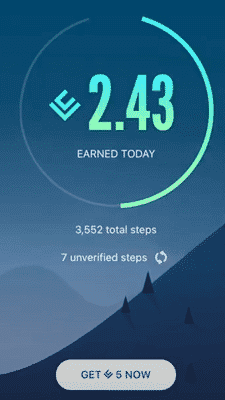 LifeCoin only counts GPS confirmed steps, so you have to go out of your house for the steps to count. So, you can't cheat the app and use something like a treadmill where you can walk in one place or shake the phone or anything like that. The app can also differentiate when you are walking or riding a car.
You will earn a certain number of LifeCoins (which is the currency they are using) for the steps you've taken. Unfortunately, they don't really explain the exact number of LifeCoins you will earn per step.
During my testing, it took more than a thousand steps before I could earn 1 LifeCoin. So, you can't exactly expect to earn a lot of LifeCoins from just a few steps.
One thing to note about LifeCoin is, as explained above, you will have to enable your device's GPS to track the number of steps you've taken. That would mean your device is consuming more battery than normal.
So, before you go out and take a walk, I would recommend you make sure your mobile device has enough battery life to track all the steps you've taken. When I was doing my testing, I made sure my mobile phone was fully charged. That way, the app didn't miss any steps I took and I would recommend you do the same if you decide to use this app after reading this review.
Option 2 – Referral program
Another way for you to earn rewards from LifeCoin is by participating in their referral program. If you haven't heard of this term yet, the idea is really simple. You invite people to use the app to earn a referral reward.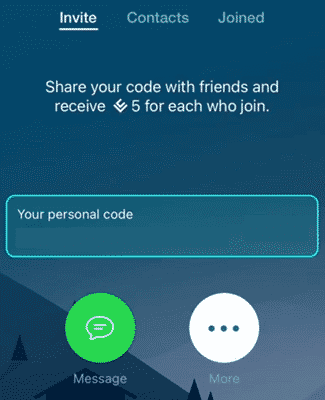 To invite a person, just share your invite link with them. Then, they have to click the link and install the app on their device. Once they complete the registration process, they will become your referral.
You will then receive 5 LifeCoins. That's how easy it is to participate in their referral program. The reward you will get isn't that significant, but the good thing is, it is very easy to meet the condition of claiming the reward.
Usually, on other online rewards apps, their referral programs will require additional conditions to be met (aside from signing up) before you can get your reward.
Recommended: Check Out the Top Survey Apps
How do you get paid?
As mentioned above, you will earn a certain number of LifeCoins when you take a walk. But what can you do with the LifeCoins you've earned? Well, LifeCoins serve as the apps currency and you can use it to redeem various rewards.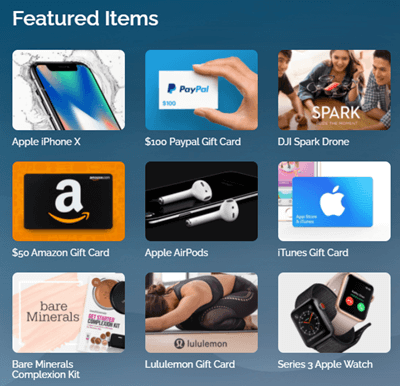 As shown in the photo above, you can redeem different electronic devices like an iPhone X, Apple AirPods, and more. You can also redeem various gift cards. You also have the option to convert your LifeCoins to cash and withdraw it via PayPal.
The payout threshold for their PayPal withdrawal is $100, which is a very high threshold, in my opinion. This will also require a lot of LifeCoins (more than 10,000 LifeCoins). So, it can take a while to withdraw that amount.
All of the rewards they offer that have a high monetary value will require a large amount of LifeCoins. For example, to claim an iPhone X, you will need 35,000 LifeCoins. That's A LOT of walking.
But, there are gift cards that are only worth 2,500 LifeCoins. So, if you are in a hurry to redeem your LifeCoins, you can go for those types of rewards. One thing to note though, the availability of rewards will be on a first-come-first-serve basis.
Let's say you've already earned enough LifeCoins to redeem an iPhone X, but it is not currently available as a redeemable reward. Then you either have to wait for it to become available again or you can just choose a different reward. This is one of the drawbacks of their reward system, in my opinion. You can't always get the reward you want.
Their payment system is relatively simple, but the rewards that have a significant monetary value really have a high payout threshold. So, it will take very long to redeem them. If you are looking for sites that will allow you to redeem rewards quicker, I recommend you check out the fastest paying sites instead.
How much money can you make?
The amount you can earn from LifeCoin will depend on how often you use it to track the steps you take. As I've mentioned earlier, it takes more than a thousand steps to earn just 1 LifeCoin. So, you can't really say that the app pays that well.
However, you have to think of it this way. What LifeCoin actually offers is a passive way of earning since walking will always be part of your daily routine. So, all you really have to do is enable the GPS on your mobile device and take your mobile device with you whenever you go out of the house.
Sooner or later, you will earn enough LifeCoins to redeem rewards. However, don't expect to redeem the rewards that are worth a significant amount in a short time because it will require a lot of LifeCoins.
That's why overall, I would say the earning potential of this app isn't that great. But the good thing is, it's a form of passive earning and there's no limit to how many steps you can earn from per day. So, you really just have to be patient. You will eventually be able to redeem the reward you like.
Can you use it on a desktop?
Due to the way LifeCoin works, you will really need to use a mobile device to earn from it. There is also no point in being able to use it on a desktop because everything you need to do has to be done on the phone. So, to answer the question above; NO, you can't.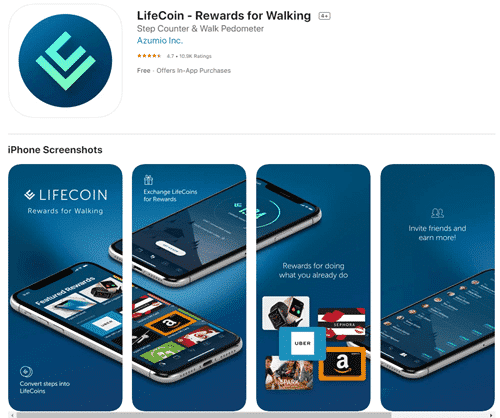 As for their app, there is a download link for Android devices on their website, but it is not working anymore. If you search for it on Google Play, you also won't find it. But its iOS download link is still working.
I'm not sure if they discontinued the Android version of the app or if this situation is just temporary. But as of the time of writing this review, LifeCoin is only available for iOS users.
Who can join LifeCoin?
LifeCoin is available globally. You can register as a member regardless of where you live. You just have to be at least 18 years of age to join.
To become a member of LifeCoin, you have to install the app first. Then, you have to go through the registration process after the app is installed. It will require you to provide your mobile number during registration. Then, it will send you an SMS message that contains a code you need to input to complete your registration.
Once you are done with the registration process, you can log in to the app and start earning. Take note though that while LifeCoin is available globally, some of the rewards they offer are only available in certain countries. So, keep that in mind when you are trying to decide if you should use this app or not.
Can you get support?
If you have any questions about the app or your account, you can refer to the support section of the app.
Now, if you can't find the answers you are looking for in their support section, you can contact their support team using the app. The contact form on their website will only redirect you to the developer's website and the contact form provided on that site is only for people who are interested in their service. So, it's really pretty useless if you are a regular user that needs support.
Overall, I would say LifeCoin has a decent support system in place for its members since it offers a way for you to communicate with their support team. But I do wish their website would provide more information about the app and that it had a usable contact form you could use. That would improve the overall usability of LifeCoin, in my opinion.
Final Verdict
LifeCoin is a legit step counter app that will reward you for walking. It has a couple of good features but it also has a few disadvantages you need to consider.
So, let me wrap up this review by summarizing its pros and cons so you can get an overview of what the app has to offer. That way, you can determine if it is really a good fit for you or not.

Pros:
Offers a passive way of earning
Offers payment via PayPal

Cons:
Limited earning opportunities available
Low rewards
High payout threshold for PayPal withdrawals
Currently only available for iOS devices
If you are looking for an app you can earn extra cash from, LifeCoin isn't really a great option. It will take you a very long time to be able to withdraw your earnings via PayPal because of its very high payout threshold.
However, if you are just looking for an app that will help you keep track of the steps you've taken during your walk, then this app can be worth considering since you can get something out of it. Just don't expect to be able to redeem rewards quickly because you will literally have to take thousands of steps before you can begin redeeming rewards.
Now, if you are looking for great ways to earn extra money, I would instead suggest you check out the top survey and GPT sites in your country. The sites and apps on this list all have good earning potential and you won't have to wait that long to start redeeming rewards.
If you have any comments, questions, or have any experiences with LifeCoin yourself, I would love to hear from you in a comment below.