TokenRush promises you will be able to earn rewards by having fun. It sounds enticing, right? Well, before you go and sign up, there are a few things you need to verify.
First of all, their claim of being able to earn by playing games sounds too good to be true. So, I can understand if you are a bit hesitant. That's actually a healthy way of thinking. Before you join any site, you first have to check if it is a scam or if it is legit.
This TokenRush review will verify the authenticity of the site and it will also take a deep dive into what the site has to offer so you can decide if it is actually worth joining or not.
So, let's go ahead and examine what this site is all about.
What is TokenRush and what does it offer?
TokenRush.com is a Get-Paid-To (GPT) site that will reward you with tokens for playing games and completing other activities they offer.
Now, to fully understand what this site has to offer, we have to take a closer look at the earning opportunities it offers.
So, here's how you can earn tokens (I will discuss later what to do with your tokens) from TokenRush.
Option 1 – Paid offers
One way you can earn from TokenRush is to complete their paid offers. If you're a member of other GPT sites, then this opportunity will be very familiar.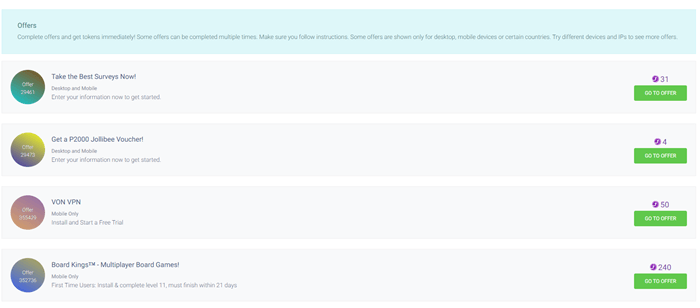 Paid offers are just short tasks you can do to earn rewards. Their paid offers will usually ask you to answer a survey, play a browser-based games, sign up for websites and trials, and a lot more.
Every offer will show you what you will earn when you complete it. You will also see the requirements needed to complete it. So, all you have to do is follow the instructions given to complete the offer.
Once the offer is completed, you will receive the tokens and it will be credited to your TokenRush account.
Option 2 – Trivia game
By playing their trivia game, you will also be able to earn additional tokens. The game is pretty simple.
All you have to do is answer questions. You will then receive the appropriate number of tokens based on the number of questions you answered correctly.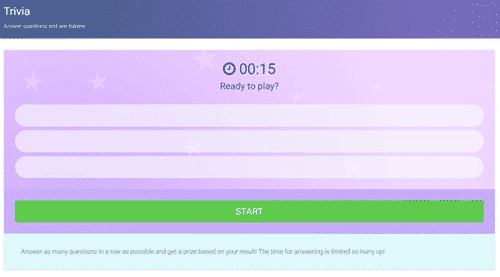 To start playing, simply click the start button. A question will be displayed on your screen. Just choose your answer. You will only have 15 seconds to choose, so make sure to answer it quickly.
After you've finished answering all the questions, the result will be displayed along with the number of tokens you've earned.
You only have 1 chance to play this game every day so it is not a way to earn a lot. Once you've finished playing, a timer will show you when you will be able to play the game again.
Option 3 – Gambling games
The games you can play that TokenRush mention on their homepage are actually gambling games. So, you won't actually be able to earn tokens. Instead, you will be betting the tokens you've earned.

One example of a gambling game you can play is their Slots. In this game, you simply place a bet and click the Spin button. You can win a certain number of tokens (depending on how many tokens you gambled) if the result of your spin is listed in their winning combinations.
So, it's really just like the slot machines you can find in casinos. The only difference is, there is no jackpot prize. While it can sound very easy to win big with this kind of opportunity, I would strongly caution you to exercise restraint when playing this game.
This is because even though you can win big from these games, there's also a huge risk you will lose all the tokens you've earned.
There are actually several gambling games you can play on TokenRush and I will explain later what this means.
In fact, you might even say the site prioritizes these gambling games more than the earning opportunities that offer guaranteed rewards.
Option 4 – TokenRush lottery
TokenRush also holds a daily lottery where you can join by simply paying 1 token for 1 entry. You can buy any number of tickets you want.

The jackpot prize will be a certain number of tokens. The initial prize will be 100 and it will increase with every entry. One winner will be drawn every day.
Again, this isn't really a reliable way to earn tokens because it will all be based on chance. So, I would advise you to exercise caution when joining their lottery.
Option 5 – Referral program
Like with most other GPT sites, TokenRush also has a referral program you can join. In case you don't know, a referral program is a program where you can earn rewards by inviting other people to join the site.
You simply share your invite link with the person you want to invite and when they sign up to the site using your invite link, they will become your referral. You will then receive a certain number of tokens depending on the country your referral lives in.
It's a relatively simple way to earn tokens and you don't have to meet a certain requirement to receive the referral bonus unlike the referral programs of most GPT sites.
However, the rewards for this on TokenRush are quite low so it will not give you a lot of earnings.
Option 6 – Link surfing
Lastly, you can also earn tokens by visiting certain websites.

The premise for this opportunity is very simple. You just have to go the Links section of their dashboard and click on the links listed. You have to view the site for 1 minute before you can earn the tokens promised.
There will be a timer that will tell you how much time is left before you will earn the tokens. You can close the page once the timer has gone down to 0. Then, you can click on another link to start the process again.
It sounds easy but it can be quite time-consuming and it will take a lot of patience to earn with this method.
How do you get paid?
As you already know, every activity you complete on TokenRush will earn you tokens. You can then exchange your tokens for certain rewards.

You have the option to convert your tokens to cryptocurrency like Litecoin or Bitcoin. For that, you will need 10,000 tokens to redeem $50 worth of Litecoin or Bitcoin.
I find this odd because usually, when it comes to cryptocurrency rewards, you will seldom find rewards that are of a fixed US dollars amount.
You will usually receive a certain number of Bitcoins (or Satoshis since a Bitcoin costs thousands of dollars). This is because the value of cryptocurrencies usually change. So, it's not smart for a site to reward a fixed amount in US dollars because they might end up losing money unless they, of course, make sure to give a rate so low that they are sure they will benefit from it.
This is one of the red flags I noticed about the site and later on, I will discuss more red flags you need to be aware of.
Now, aside from cryptocurrency, you also have the choice to redeem different electronic devices like gaming consoles, Bluetooth speakers, and powerbanks. For these devices, you will need a lot of tokens. For example, a PlayStation 4 Pro will cost 90,000 tokens.
They don't offer gift cards or even PayPal withdrawals. Their payout threshold is also very high ($50) which means you will have to invest a lot of time to redeem rewards.
If you prefer a site with a low payout threshold, I recommend you check out the fastest paying sites instead.
Red flags you need to be aware of
As I've mentioned above, TokenRush has certain red flags you need to be aware of. In my opinion, these red flags make this a site you definitely have to think twice about before joining.
Red flag #1 – Cryptocurrency rewards
Like I've explained earlier, you will seldom find a GPT site that will reward you with a fixed amount in US dollars of Bitcoins/Litecoins/Ethereum/or any other cryptocurrency. Withdrawal of cryptocurrency is usually the other way around.
You withdraw a certain amount in cryptocurrency to your cryptocurrency wallet. Then, your cryptocurrency wallet will then convert the cryptocurrency to actual fiat currency (like US dollars or Sterling pounds).
I find this strange because, in my opinion, if it is structured this way, they could potentially lose money when members withdraw their earnings depending on the cryptocurrency exchange rate.
The only reason I can think of why they structured their reward system this why is because they will give you such a poor rate so they are sure they will make money from it – this will be beneficial for them but NOT for you as you will get poor value for the time you put into the site.
Red flag #2 – Anti-virus alerts
When I was exploring their member dashboard, my anti-virus kept popping up multiple times when I tried to go to certain pages. I don't usually encounter this with other GPT sites. So, there's definitely something weird going on.
At the very least, their site is a bit spammy because my anti-virus keeps blocking the pop-up ads since it thinks the ads contain malwares. So, it's definitely something you need to be aware of.
Red flag #3 – Reward redemption complaints
I dug a bit deeper when I encountered a few red flags and it seems like there are plenty of complaints about the site not allowing you to redeem rewards.
In fact, this is about the only feedback I can find about the site from previous members.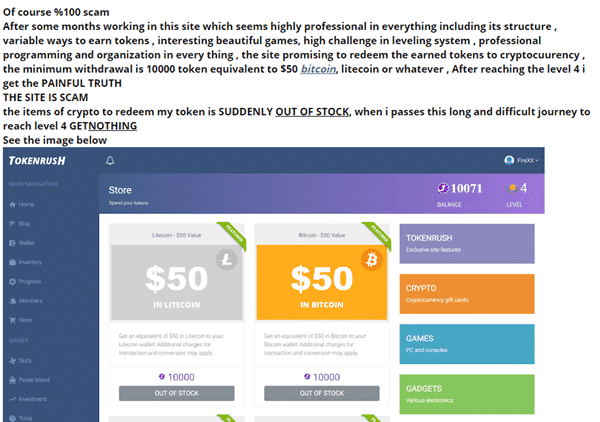 They claim that when you redeem any kind of reward, you will always get a message saying the reward is out of stock.
Now, the site does address this issue explaining "Items sell out because there are many users who want them. The store works on a first-come-first-serve basis. However, we constantly add fresh items. Visit the store constantly to not miss the next batch of items and get your rewards!"
Regardless if that explanation is true or not, the fact that it is very hard to redeem rewards from this site. That alone is a big red flag, in my opinion. A GPT site should always make rewards accessible for members. That's the whole reason why members go to sites like this; to redeem rewards.
And if they can't do that, then there's really no point in continuing to be a member of that site.
Red flag #4 – Limited support
The last red flag I found about TokenRush is the limited support options they provide on their site. Sure, they have a FAQ page that covers some of the basic topics.

But if you have any questions about the site or you have any issues with your account (like the rewards you are trying to redeem), they don't offer any way for you to get in touch with a support representative.
As shown in the photo above, all they give you is an email address you can send bug report to. There's even a subtle reminder that only bug report are allowed to be send to this email address.
And I've searched everywhere on their site and I can't find any email address or contact form you can use to send in your support inquiries. Now, there are only two reasons I can think of for this.
It's either that they expect they will receive plenty of complaints and that's why they didn't bother to put any contact info, or they don't have the staff to handle support inquiries.
Either way, it shows they don't really care about their members because they don't offer a way for them to receive support.
Final Verdict
TokenRush is a GPT site that will reward you with tokens for playing games and completing offers. I can't find any benefits this site offers and all I can find are drawbacks.
So, let me wrap up this review with a summary of its pros and cons to give you an overview of the site so you can understand why it's really not worth joining, in my opinion.

Pros:

Cons:
The site is spammy and possibly contains malwares
Very high payout threshold
Limited guaranteed earning opportunities offered
Poor support options offered
Simply put, there are just a lot of other online rewards site you can join that are better than TokenRush, in my opinion. The site just has too many red flags for me to recommend you join it.
You are better off joining a survey or GPT site that offers plenty of guaranteed ways to earn rewards and not just betting games. That's why I suggest you check out the top survey and GPT sites in your country instead.
As mentioned, the sites on this list all offer guaranteed ways to earn and they all have good earning potential. Plus, you will definitely find a site you can join regardless of where you live.
If you have any comments, questions, or have any experiences with TokenRush yourself, I would love to hear from you in a comment below.