If you love to shop either online or in-store, there's actually a way for you to turn that into a profitable undertaking.
There's this thing called mystery shopping that will allow you to earn rewards while shopping from your favorite store online or in your locale.
If you are new to mystery shopping, let me explain it a bit. It is a process where an individual will visit a retail store, restaurant, or any such location (including online stores) and their goal is to assess the quality of customer experience.
One such site that offers this type of opportunity is UK Mystery Shopper. Now, I'm sure you are wondering, is UK Mystery Shopper a scam? Or is it legit? It's a valid question to ask.
You want to make sure you get rewarded for doing some mystery shopping. Fortunately, UK Mystery Shopper is a legit site. But this doesn't necessarily mean this site offers a good way for you to earn from becoming a member.
This UK Mystery Shopper review will give you an inside look so you'll know what to expect if you decide to participate in their mystery shopping offers.
What is UK Mystery Shopper and what does it offer?
UK Mystery Shopper, as mentioned above, is a mystery shopping site where you get to participate in mystery shopping opportunities and in exchange, you will receive a reward for doing so.
This site started operating in 2013 and has given plenty of users across the UK the opportunity to take part in mystery shopping assignments. The keyword here is "across the UK". That means if you don't live in the UK, then this is not for you (see options in other countries).
Now, in order to fully understand the potential of this site, we need to examine closely how you are able to earn from it.
So, I have made a video that gives you an inside look and shows exactly how you can earn from UK Mystery Shopper. You can also read all the details below the video:
The earning opportunity – Mystery Shopping
This comes as no surprise. The main and only way you can earn from this site is by participating in mystery shopping opportunities.
When you become a member of their site (which I will talk about later), you will have access to opportunities you can apply for.
Yes, you read that right. Before you can participate in any mystery shopping activity, you will have to send your application first.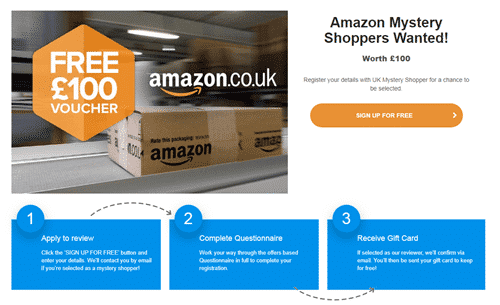 As you can see in the photo above, before you can go mystery shopping, you need to apply for a position as a reviewer. To do so, you have to select which store you want to apply to.
For example, if you want to be a mystery shopper at Amazon, you have to look for Amazon in the categories available. Then, click the "Sign Up For Free" button. You will then have to provide your login details.
Once you've done that, you will have to answer a relatively long survey – or what they call a survey.
It actually is several pages of promotional offers. You will have to answer some questions but every part of the so-called survey is actually an offer.
So make sure to read what it says in small letters below each question as you will often agree to be contacted by advertisers if you give certain answers.
In this way, it is very much the same process as Product Testing UK.
The reason they can afford giving some nice rewards is that advertisers pay them and they earn by promoting all these offers to you.
I am not saying it cannot be worth it, but you need to know exactly how it works and decide based on this.
And it might not be clear to you what this "survey" actually is and it might then come as a surprise if you suddenly get contacted by a lot of advertisers.
You can also just say no to all the offers and then that should be fine. But you still have to go through the whole list of promotional offers and tick some boxes every single time you want to register for a new chance of becoming a Mystery Shopper.
Once you've completed the survey, all you have to do is wait for confirmation that you've been chosen as a mystery shopper.
If you are chosen as a reviewer, they will contact you via email in the first instance, using the email address you gave upon sign up.
You will then be sent a checklist of points to discuss and an A4 poster for photos, as well as the gift card/voucher you can use for the purchase. If you are chosen, make sure to follow the instructions carefully because approval of your review will be dependent on how well you've done your review.
Take note that it will be 500+ word review. So, if you don't really like to write a lot, then this site is probably not for you.
It's a pretty long process, in my opinion, but the rewards are pretty significant too. So, you can say that it is really worth the time you spent.
However, you have to be aware that there is no guarantee you will ever be chosen even if you register for many of the offers.
You just register for a chance of getting selected and there are many people registering for each option on UK Mystery Shopper so you have to be really lucky to get the chance.
How do you get paid?
Technically speaking, you won't get paid to do the reviews. The rewards you get are the products you bought from the store you applied for since you get to keep them.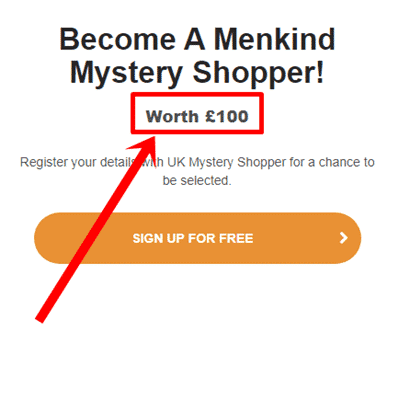 As you can see in the photo above, the amount you will receive in gift cards/vouchers will be displayed when you apply for being a mystery shopper.
Most of the reviewer slots will give you around £50-100. If you think about it, that's actually a pretty significant amount.
The downside is, it will all be converted into products and there are no big chances of getting chosen. So, if you were hoping to earn cash from this site, you will be disappointed. This is the only form of reward they offer.
If you prefer to earn cash instead, I suggest you check out the top survey sites that pay via PayPal.
How much money can you make?
Again, if we are strictly talking about the money you can make, you won't earn any. You will instead, be receiving products once you become a reviewer.
And based on the photo shown above, you will actually receive a pretty significant amount, only in the form of gift cards, of course.
That's why if you are chosen to participate, I suggest you only avail of offers from the store that you are really interested in. That way, becoming a participant will really benefit you because you will be getting products that are interested in.
So, in all actuality, you get to have products that you like for free when you become a mystery shopper. It's actually a pretty good deal, in my opinion.
Can you use it on mobile?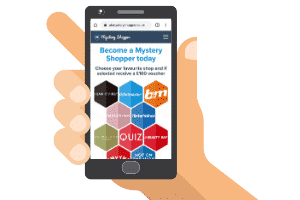 UK Mystery Shopper doesn't have an exclusive mobile app you can download so you can apply to become a mystery shopper on your mobile device.
However, you can still access their website on your mobile device by using a mobile web browser.
Fortunately, their site is optimized for mobile use. So, you will be able to navigate through the site with ease and read all the content properly.
This is a big help because you can check on the status of all your applications even when you are not in front of your computer.
But that's all you can really do on your mobile device with this site. The actual work has to be done in-store and at home (when you will be doing your review).
Unless of course, you become a mystery shopper of an online store, then you can use your mobile device for purchases.
Who can join UK Mystery Shopper?
This site is only available to residents of the UK and Australia. You also have to be at least 18 years of age in order to sign up.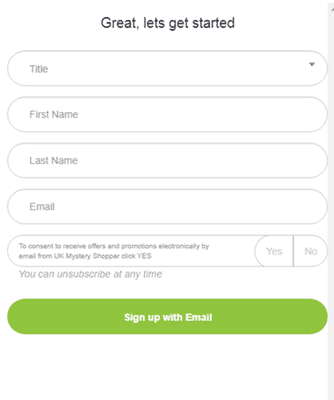 As explained earlier in this article, their registration process is actually quite long. When you look at their website, you won't see any sign-up button right away.
To become a member of their site, you will have to apply to become a mystery shopper for a specific store first.
So, you have to click on any of the stores you are interested in and sign up from there.
As mentioned, you will have to answer a relatively long so-called survey aside from providing your log in details and go through all the promotional offers they present in this.
Take note that you will have to provide your mobile number to sign up also.
They will notify you via SMS if you've been chosen to become a mystery shopper.
You will also have to provide your mailing address because remember, everything you will need will be sent to you via postal mail. Once you finish the first application, you will now be able to log in to the site using the login details you've provided.
Can you get support?
UK Mystery Shopper is kind of transparent with what they have to offer.
They also have a comprehensive FAQ section that answers most of the common questions you will encounter when you become a member of their site.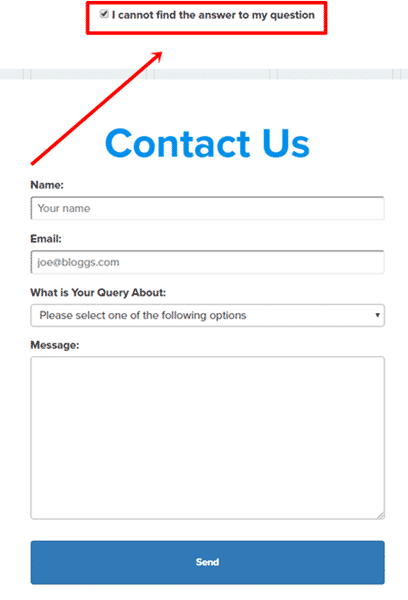 But if you are not used to sites like this, there will probably be some details (as explained in this review) that will not be clear.
If you can't find the answer you are looking for, you have the option to contact their support team by clicking the checkbox beside "I cannot find the answer to my question" on the FAQ page.
It will then expand to show the contact form. You can use the contact form to send in your question for their support team.
So, overall, I would say that they do provide decent support options for their members, which is a good sign.
Final Verdict
UK Mystery Shopper is a kind of mystery shopping site that provides you with an opportunity to earn rewards for participating in their mystery shopping opportunities.
It has some nice qualities and some evident limitations.
Here's a summary of its pros and cons to help you decide if you should join or not.

Pros:
Each mystery shopping opportunity rewards well
You get to keep the products you've bought
Their site is mobile-friendly

Cons:
No option to earn cash
Limited earning opportunities
The process of participating as a mystery shopper is quite long
You will need to be patient because you have to apply to become a mystery shopper
It is not really clear what the sign-up "survey" really is if you are new to this type of site
As you can see, the most glaring drawback of UK Mystery Shopper is, it's not really a site you can earn extra cash from. But if you like to get products for free, this can be a good site to join, provided of course, you are eligible to join.
The fact that they give you gift cards and vouchers worth a significant amount is what makes it a decent site to join.
However, you do have to be very patient because you won't get to be accepted as a mystery shopper all the time. And there is no guarantee you ever will.
So, temper your expectations before applying to become one.
Also, remember to read the small letters below each question in the sign-up survey so you know exactly what you are agreeing to.
Now, if you are looking for a site you will be able to earn extra cash, I recommend you check out the top GPT sites instead. The sites on this list all have various earning opportunities offered and are all known to have good earning potential.
Plus, you will be able to find a site you can join regardless of where you live.
If you have any comments, questions, or have any experiences with UK Mystery Shopper yourself, I would love to hear from you in a comment below.