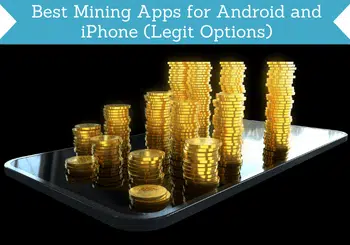 Mining cryptocurrency is, by many seen as an easy and passive way to earn easily.
And many are also looking for ways to do this from their phones to make it even easier.
It used to be a very expensive endeavor because you had to spend thousands of dollars just to set up a mining rig.
But now, there are actually ways to just use your mobile device to mine certain cryptocurrencies for free.
However, with so many options, it can take quite some time to narrow down the right options for you if you have to try them out one by one. And there are also many mining scams you need to be aware of.
That's why I've decided to make this list of the best mining apps for Android and iPhone. That way, all you have to do is read this list to find out which apps you can use.
All the apps on this list are legit and free to join and I will include a brief description of each app so you'll know exactly which apps will fit your needs.
Disclosure: Some articles on this website contain affiliate/sponsored links. Click for more info.
How much can you earn?
As mentioned above, crypto-mining technology has improved over the years.
There are now even many apps that claim you can mine crypto using your mobile device.
A decade ago, nobody thought this was possible, but with the advent of altcoins (an alternative digital currency for Bitcoin), there are now many options.
Before you think you can earn thousands of dollars from these mining apps, let me set your expectations properly. Mining crypto using your mobile device is not the traditional way of mining crypto.
Normally, you must invest a lot of money to set up a traditional mining rig. A traditional mining rig will yield more profit because it has a higher computing power which is how mining works. Since a mobile device doesn't come anywhere close to a traditional mining rig's computing power, then you can't expect to earn the same amount.
So, let me just make it clear that you won't earn a lot from these mining apps. You will only earn a very small fraction of what you can earn from a traditional mining rig.
But the thing about mining apps is that you won't have to invest any money. And you will earn completely passively once things have been set up.
Therefore, everything you earn will automatically be considered profit. It may not be much, but it's a good entry into the world of crypto, in my opinion. You just need to be patient.
Also, you need to be aware that you are not mining the same way as you are from regular mining rigs. To be able to do it from your phone, instead, companies offer you to do what is called cloud mining where they have the equipment and you "borrow" that, so to say.
And there are not a lot of good apps that allow you to do real cloud mining, to be honest (I have tested A LOT of options). But luckily, there are many other ways to earn free crypto automatically, and since some of these are the most realistic and best ways to earn free crypto from your phone, I will include some options like this on the list below, even though it will not as such be mining you do.
And take note, in some of the apps, you won't be mining any of the biggest cryptocurrencies today (Bitcoin, Ethereum, etc.) Instead, you'll be mining altcoins which are just another form of cryptocurrency and most of them already have real-world monetary values.
So, if this is the case, you can convert them to any of the popular crypto. That way, you'll be more insured of the monetary value of your crypto assets since these are more stable.
This is only my opinion, though. You are still free to keep the altcoins you mine, and if they ever pan out and their value rises, you'll get more profit.
Mining scam for Android and iPhone to be careful off
If you are looking for legit mining apps for Android and iOS, you have maybe thought about just going to the Google Play store or the Apple app store.
However, this is NOT a good way to find legit mining apps or apps to earn crypto for free, in general.
You have no way of verifying if the companies behind actually have the mining equipment to allow you to earn by doing cloud mining or that they will allow you to really earn crypto for free.
It is definitely possible to find legit apps there, but, in my experience, the majority of them are just a waste of time or even outright scams.
Therefore, be careful about which apps you download and use. And as a rule of thumb, you should especially stay away if it is an app that promises unrealistic high earnings.
8 best mining apps for Android and iPhone
Before we discuss the best mining apps for Android and iPhone, let me first make something clear again that I already mentioned briefly earlier, but it is very important to understand.
Technically speaking, you can't do any regular mining on phones in most cases. That's because traditional mining apps are not available in both app stores.
Instead, the apps I will be listing below are what are called cloud mining apps, or in some cases, you can claim free crypto. The good thing about this kind of mining app is that it will not affect your device's performance and battery compared to traditional mining equipment.
Also, keep in mind that this is not a prioritized list, so the app you should choose should be the one that best suits your needs and preferences.
I will keep updating this list if I find more opportunities, so make sure to bookmark this page and check on it from time to time for newer apps.