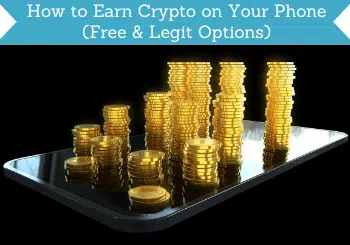 Do you want to earn crypto on your phone without any investment at all?
Then, you've come to the right place. This guide will show you the best apps you can use to earn crypto using your phone for free.
Nowadays, there are plenty of mobile apps that will allow you to earn crypto, and it will literally take you months to try them out one by one to find out which ones are the best.
That's why I've decided to make this guide to help you save time, as I have tested hundreds of options myself, and I keep testing new opportunities all the time.
I will list down the best apps you can use to earn crypto for free, and I will include a brief description of each app. That way, you can just choose which apps will suit your needs. Take note that all these apps are legit and free, so you don't have to spend a dime to start earning.
Disclosure: Some articles on this website contain affiliate/sponsored links. Click for more info.
How much crypto can you earn?
Before we talk about the actual apps you can use, let's first discuss how much crypto you can earn from them. To be clear, these options will not make you rich. You won't earn hundreds of dollars overnight from them.
So, make sure to temper your expectations before you choose any of these options.
That being said, the good thing about these options is, you will be able to earn crypto anytime and anywhere, and they can be a great way to earn crypto on your mobile easily, whether you have an Android or iOS device. That's the benefit that, in my opinion, makes these options worthwhile.
And if you believe in the future of crypto (which I personally do), then any of these options is a good starting line to begin accumulating crypto assets. And best of all, as mentioned above, they are all free, so you won't have to invest any money.
12 best ways to earn crypto on your phone
Now that you know what to expect from these options, it's time we discuss the actual ways you can earn crypto by using your phone. And if you want to maximize your crypto earnings, I would recommend you join around 5 to 7 sites/apps. That way, you will gain access to more opportunities.
I will keep updating this list if I find new apps that are really worth it, so make sure to bookmark this page and check on it from time to time for new options.