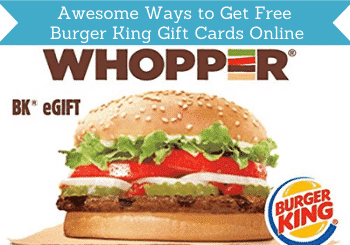 ​Burger King is considered one of the best burger joints around. If you love eating from this fast-food restaurant or if you frequently visit this joint, there's actually a way to save money and still enjoy delicious meals from Burger King.
You can use gift cards for your next meal in Burger King. And the good thing is, there are sites you can join that will allow you to earn these gift cards for free.
So now, you need to figure out which sites should you join?  Doing it via trial and error is a very inefficient way of finding out if you are able to get a decent number of gift cards from a certain site.
That's why in this article, I have put together a list that will help you figure out how to get free Burger King gift cards online. It will list 9 of the best and legit sites where you can get these gift cards completely for free.
Disclosure: Some articles on this website contain affiliate/sponsored links. Click for more info.
How to get free Burger King gift cards?
The sites where you can get these gift cards are online rewards sites and they are called Get-Paid-To (GPT) and survey sites.
Simply put, these sites will ask you to complete tasks or answer surveys and in exchange, you will receive a reward once you are done.
The rewards will typically be in the form of some type of currency or points you can use to exchange for gift cards from Burger King. But that's not the only reward you can get from these sites. You can also redeem other rewards like cash and other gift cards.
As mentioned above, all these sites are free to join. So, you just need to invest a bit of your time and effort.
How many gift cards can you get?
The way these sites work is the more offers, surveys, tasks and other activities you do, the more rewards you will get.  That's simply the logic of these sites.
There is no limit to how many Burger King gift cards you can get. But all of this will boil down to how much time you are willing to spend on these sites. Ideally, you will want to join sites that offer the best money/time ratio.
This will be the main qualifying characteristic that the list below will be based on.
I suggest you join several sites to get as many Burger King gift cards as you can. The reason for this is, they all offer different opportunities.
And if you join around 5 to 7 sites, you can then earn a good number of gift cards and still have enough free time.
9 best sites to get free Burger King gift cards
I won't be listing down all the sites where you can earn free Burger King gift cards. Instead, I will focus more on quality and only list the best sites you can join to get the most value out of your time.
I will keep updating this list if there are any new good sites to join. So make sure to bookmark this page.