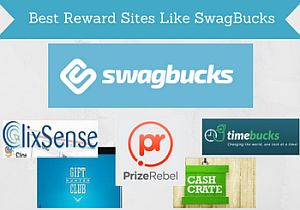 SwagBucks is one of the biggest and most popular online reward portals and survey sites with over 20 million users. So if you are not already a member, there are good chances that you have still heard about SwagBucks before, if you are interested in making money online.
If you are already a member, you might however want more chances to earn money. Or you might live in a country where SwagBucks is not available. The good news is that there are plenty of good alternatives to SwagBucks.
So whether you want to find an extra reward site to increase you earnings, or if you want to find alternatives, because you do not have access to SwagBucks, you have plenty of opportunities. By joining other sites as well, you will be able to increase your earnings significantly. Therefore, I have made this list of the best reward sites like SwagBucks, so it will be easy for you to find the legit and worthwhile alternatives.
Disclosure: This article contains affiliate/sponsored links. Click for more info.
Why join other sites than SwagBucks as well?
Above, I have briefly mentioned why it might be worth considering joining other sites than SwagBucks. Let me first make it clear that I am fan of SwagBucks, and it is one of my top rated reward sites. So the reason to find alternatives is not that SwagBucks is not a good site. If you can join SwagBucks, I definitely recommend that you do (you can read my full review of SwagBucks here and also learn how to get $5 joining bonus).
But even though SwagBucks is a great site, there are limited opportunities, as there are on any survey or reward site. That is why it in general is great to join several sites, if you want to increase your opportunities. Then by combining the different opportunities on the different portals, you will be able to boost your earnings. Also, if there is a day when one or several of the portals do not have very many opportunities, then you have the others to use that day.
Some people also do not have the possibility to join SwagBucks. It is still limited to a fairly few countries and is only avaulabek in the US, Canada, UK, Ireland, Australia, France and Germany. So if you do not live in one of these countries, you should not be discouraged – there are plenty of other good and legit reward sites to join instead.
How much money can you make by joining several reward sites?
Before we get to the list of the best alternatives to SwagBucks, I want to make an important point. Joining several reward sites can make you some nice money. It will however NOT make you rich, even if you join many sites. This is important to remember, and if you join a reward site with that expectation, you will be disappointed. That is why I always make sure to make it clear that it is not a way to get rich online.
But it can make you some nice extra money. If you go into it with this attitude, it will be fun, you will enjoy doing the tasks, you will have the necessary patience, and it can then be a great way to make some money. And also the only way to make money online without any investment or risk at all.
Sites similar to SwagBucks
The list below is a list of reward sites that are similar to SwagBucks. All the sites on this list, are sites I have tested thoroughly myself and they are all legit. This is not a complete list of survey sites and reward sites, but a list of the sites that are the most similar to SwagBucks in what they are offering, and as mentioned only sites that are worth joining are on the list. How many opportunities they different sites give you depends on a number of different things. One of the important aspects is where in the world you live. Info about which sites are available where, is included in the info below: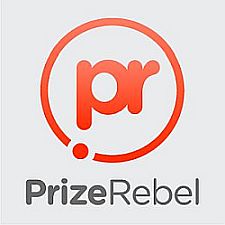 PrizeRebel:
Payment methods: PayPal, vouchers
Available in: All countries, but most opportunities in US, UK, Australia, Canada
More info: Read full PrizeRebel review
PrizeRebel is one of my absolute favorite reward and survey sites. It has many ways of earning money. You can do surveys, CrowdFlower tasks, take offers, get paid to play games, refer friends, participate in daily challenges or participate in the frequent free contests. PrizeRebel also often offers free points through promo codes on their Facebook page, and the more activity you have, the more advantages you will get, as there are different membership levels depending on your earnings.
So PrizeRebel is a great addition to SwagBucks or a good replacement, if you live where you cannot join SwagBucks. As SwagBucks, it offers a big variety of earning methods. Even though it has most opportunities in the US, the UK, Australia and Canada, it does not mean that there are no opportunities for other countries. There are a good amounts of opportunities in many countries, and if you live in a country where there for example are few surveys, then you will probably still have the CrowdFlower tasks, which can also be a great way to earn money.
==>Click to sign up for PrizeRebel<==
---

ClixSense:
Payment methods: Payoneer, Skrill, Payza, Tango Card, Check
Available in: All countries
More info: Read full ClixSense review
ClixSense is one of the survey sites i have had the most success with myself. It does not offer as many ways of earning money as SwagBucks, but it is still a great site with some great opportunities. You can mainly earn money by doing surveys, take offers or by doing CrowdFlower tasks. You can also earn by inviting friends to join, or have a certain activity in a day, which will give you a nice bonus. ClixSense also has games you can play, but these are only for fun, and not a way to earn money.
One of the great aspects of ClixSense is that everyone can join. There will however not be the same amounts of surveys available in all countries, but there are good chances that you will find some no matter where you are from. If you do not get a lot of surveys, you should consider trying the CrowdFlower tasks. ClixSense is in my opinion the best site to CrowdFlower tasks, as you can earn some great bonuses this way. Like with every other survey site, you will not qualify for every survey that is available. So if you several times do not qualify, do not give up. Just keep trying and after a while you will know what kinds of surveys you most often qualify for, and then you just focus on these.
==>Click to sign up for ClixSense<==
---

TimeBucks:
Payment methods: PayPal, Payza
Available in: All countries
More info: Read full TimeBucks review
TimeBucks does not only have a part of the name in common with SwagBucks. It does also offer a lot of different earning methods. Some are quite unique for a reward portal. You can for example earn money by growing a beard or taking selfies. Of more usual earning methods, TimeBucks offers an offer wall, you can do surveys, watch videos, view content, read emails, refer friends, and participate in contests and raffles.
It is quite an interesting reward site that offers good opportunities for most countries. If you do not qualify so much for the surveys or offers, they will still be plenty of opportunities. For example, you can participate in the "grow a beard" challenge no matter where you live, and also get paid for viewing content etc. It does in some cases not give as high rewards for surveys as the 2 sites above, but it still has some great opportunities, and can be worth checking out.
==>Click to sign up for TimeBucks<==
---

Gift Hunter Club:
Payment methods: PayPal, Vouchers, Amazon Gift Cards
Available in: All countries but most opportunities in US, UK, Spain and Latin America
More info: Read full Gift Hunter Club review
Gift Hunter Club is a fairly simple site, but easy to use and has a good amount of different opportunities. You can of course earn money by doing surveys, but also earn by watching videos, listening to the radio, take offers, invite friends, do CrowdFlower tasks, and participate in free contests. Gift Hunter Club also has an official app, so it is easy to use the platform on the go.
This is the only reward site I have seen that particularly offers many possibilities aimed at Spanish-speaking countries. So if you live in Spain or Latin America, you should definitely check out Gift Hunter Club. But you can also benefit from joining from other countries. Exactly how many opportunities you will get in other parts of the world will be different from country to country. But it can be worth testing in your own country. If you prefer only joining 2-3 reward sites for now, I would suggest you join the ones above instead, unless you live in a Spanish-speaking country.
==>Click to sign up for Gift Hunter Club<==
---

CashCrate:
Payout methods: PayPal, check
Available in: All countries but most opportunities in Canada, Australia, the UK, Germany and France
More info: Read full CashCrate review
CashCrate offers quite a lot of different earning methods, but in my experience it takes a bit more patience than some of the other sites on this list. You can earn by doing surveys, taking offers, watching videos, get cash back for shopping, refer friends, participating in free contests, and by playing games. A little extra interesting way to earn is by uploading payment proof when you have received a payment from CashCrate.
As mentioned, I think it takes a bit more patience to make money on CashCrate. It has many opportunities, but it also seems you have to for example try quite a lot of surveys before qualifying. That can be the case for most survey sites, but I think it is more often than usual that I do not find surveys on CashCrate. Also, you have to be a bit more patient to get a payout, as the payment threshold is $20 which is a bit high. It does however have some great features like for example always giving extra rewards on holidays and having regular free contests.
==>Click to sign up for CashCrate<==
---
Conclusion
As you can see, there are plenty of other sites you can make money on than just SwagBucks. None of them are quite as big as SwagBucks yet, but that does not mean they are not good.
This is of course not a complete list, but these sites are all legit and offer good opportunities, so it is a great place to start. If you want to join even more reward sites, feel free to have a look around my site for inspiration and read reviews, or ask for advice in a comment below.
If you have any questions or know of a site you think should be on the list, just drop a line or two below.