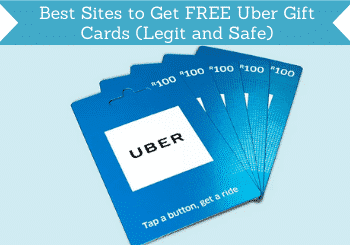 If you don't own a car (or even if you do), at some point, you might have enlisted the service of a ride service hailing company called Uber. This company is estimated to have over 110 million worldwide users.
It has definitely become the main option of people (who can afford it) to get around town if they don't have a car. If you are one of those people, you know it can get expensive if you keep calling an Uber.
Fortunately, there's a way you can get free Uber gift cards online to help you save on your next Uber ride. It can be quite a troublesome task to identify which sites you can join since there aren't really a lot of sites that offer this kind of reward.
This is where this guide will come in handy. This article will help you figure out the best sites you can join to earn free Uber gift cards. It will list 8 of the best and legit sites where you can get the said gift cards completely for free.
Disclosure: Some articles on this website contain affiliate/sponsored links. Click for more info.
How to get free Uber gift cards?
The sites that will allow you to earn free Uber gift cards and codes are called Get-Paid-To (GPT) and survey sites.
If this is your first time hearing about these sites, they are basically online rewards platforms that, as the name suggests, help you earn rewards in exchange for completing certain activities (like answering surveys and a lot more).
A GPT site typically offers more earning opportunities than survey sites. A GPT site can offer surveys as a way to earn rewards, as well as other activities like signing up to certain websites, playing games, downloading apps, watching videos, etc.
Once you've done these things, you will then receive some type of currency or points you can use to exchange for gift cards or gift card codes from Uber.
What's good about these sites is, aside from gift cards for Uber, there are also other rewards you can choose from that I'm sure you will be interested in. Plus, you can also earn cash on most of them.
Remember that all the sites listed in this article are all free to join. So, don't worry about any registration for or membership subscription. All you really need to invest is your time and a bit of effort.
How many gift cards can you get?
The number of Uber gift cards you can get from GPT and survey sites will mostly depend on how much time you are willing to spend. Another factor that can affect your earnings is how well the site pays.
Here's how you can factor in your earnings from these sites. The more offers, surveys, tasks, and other activities you do, the more rewards you will get. And if you have more rewards, then, you can redeem more Uber gift cards.
Now, if a site pays well, the time it takes to earn a certain amount gets reduced. So, if you combine both things, you will be able to earn a significant amount by joining a site that pays well and staying active on it. These will be the sites I will be including in the list (the ones that pay well).
Theoretically speaking, there is no limit to how many Uber gift cards you can earn. But as explained above, it really depends on how much time you are willing to spend on these sites.
As a general suggestion, you should join several sites since they all offer different opportunities. This is the best way if you want to get as many Uber gift cards as you can.
For a start, I would suggest you join around 5 to 7 sites since that's the perfect number of sites that will allow you to earn a good number of gift cards for Uber and yet, still have time to do other things.
8 best sites to get free Uber gift cards
I won't list all the sites where you can earn free Uber gift cards. Instead, I will only list down the sites that I think are the best sites you can join to earn Uber gift cards and the ones that are actually worth it.
And as explained previously, most of the sites on this list all have good earning potential. I will keep updating this list if there are any new good sites to join so make sure to bookmark this page.