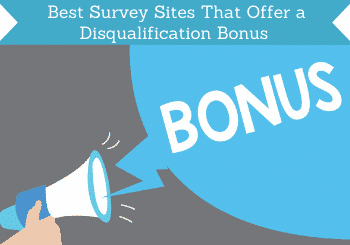 One way to earn a decent amount of extra money online is to join survey sites. All you have to do is answer a few questions and you automatically get paid. That's a pretty easy way, right?
Well, that is, unfortunately, not always the case as it can take a lot of patience to earn on some sites.
The main reason for this is that you won't always get to earn for every survey you get invited to answer. Survey sites will actually screen its respondents to find out if they are really included in the demographic group the survey is intended for and you will therefore not always qualify.
It can be frustrating but it's part of the process and something you can't avoid. However, there are some survey sites that actually still pay you even if you get disqualified. So, you can say your time wasn't completely wasted because you still earn something.
This guide is meant to help you figure out the best survey sites that offer a disqualification bonus. That way, even if you fail to qualify for a survey, you will still earn something.
All the sites I will be including in this guide are legit and free to join. All you need to do is sign up and you can start earning right away.
Disclosure: Some articles on this website contain affiliate/sponsored links. Click for more info.
Why do survey sites screen you?
As mentioned above, survey sites will screen you first before they will actually let you answer the survey. But why do they need to do this?
Well, the main reason for this is they want to make sure their clients who actually ordered and paid for the survey, will be able to get useful and appropriate data. You see, the data gathered from these surveys will be used to make decisions regarding products and/or services.
For example, let's say a detergent company hired a survey site to create a survey for the detergent they are selling. The survey site will then have to make sure the people who will answer the survey are people who actually do the laundry or those that actually do the shopping for detergent.
Otherwise, the data they will collect will be useless since the people answering the survey can't really provide useful or relevant answers. This is the whole reason why survey sites will screen their respondents first before they will allow them to answer the actual survey.
How to earn the most?
Now, in order to earn the most from these survey sites, you have to answer as honestly as you can. Survey sites value honesty above everything else because they really want to make sure their clients get quality answers.
Most of their systems (the good ones anyway) are designed to recognize if you are just answering randomly so you can finish the survey as soon as possible or if you are really taking the survey seriously and answering it honestly.
But aside from taking all surveys seriously, another thing you can do to maximize your earnings from these sites it to participate in all the earning opportunities they offers. Many survey sites offer other ways for you to earn in addition to paid surveys, like referral programs, paid offers, or even contests.
And lastly, you should join around 5 to 7 sites as you will then get access to more earning opportunities but without getting too overwhelmed with what you need to do. This is a great starting point if you are just getting into survey sites.
Later on, when you feel you can handle more sites, you can then join more so you can earn more rewards.
10 best survey sites that offer a disqualification bonus
The sites I will include on this list aren't the only sites that offer a disqualification bonus. Instead, these are the sites that I think are worth your time based on my experience after having tested hundreds of paid survey sites.
They are also relatively user-friendly and they offer convenient payment methods. I will keep updating this list so make sure to bookmark this page and check back from time to time for new opportunities.