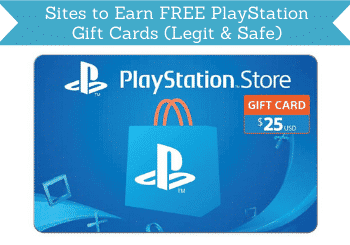 ​From role-playing games, sports games, action-packed first-person shooting games, and strategy games, you could say that PlayStation is one of the best platforms to enjoy those said types of games. But if you are on a budget, you won't be able to buy a lot of games.
Unless you find a site that will allow you to earn free PlayStation gift cards. If this is your first time hearing about this kind of opportunity, there are actually online rewards sites that will help you earn gift cards for PlayStation so you can save a few bucks if your budget is tight.
These gift cards can go a long way into getting the games that you want. Now, the question is, which sites should you join? Well, this guide will help you figure out the best site to earn gift cards for PlayStation.
All these sites are free to join so it won't cost you a thing to join.
Disclosure: Some articles on this website contain affiliate/sponsored links. Click for more info.
How to get free PlayStation gift cards?
As explained above, you can earn PlayStation gift cards for free from online rewards sites. These sites are called Get-Paid-To (GPT) and survey sites.
They will basically ask you to answer a survey or complete a short task. In return, you will be rewarded with a certain currency or number of points. When you reach the threshold required, you can then exchange the currency/points for PlayStation gift cards.
Of course, there are also other options you can choose from if you prefer to redeem rewards other than gift cards for PlayStation. You can redeem gift cards for stores like Amazon, eBay, Target, and more. You also have the option to withdraw your earnings via PayPal and even direct bank transfer.
How many gift cards can you get?
The logic to GPT and survey sites is, the more surveys and short tasks you complete, the more you will earn. Of course, another factor would be how well the site pays. But overall, the determining factor is really the amount of time you will spend on these sites.
To earn a good number of gift cards, you have to join GPT and survey sites that pay well. This will be the most efficient way to earn. You will want a site that pays well so you don't have to spend as much time to earn a significant amount.
These will be the sites I will be including on this list. I recommend you join around 5 to 7 sites at the beginning. This will be the perfect number of sites to join so you can earn a significant amount and still have time to do other stuff.
You can just join more sites later once you're accustomed to the workload and you feel like you can handle more.
Avoid the automatic generator scam
Before I list down the sites you can join, it is important you become aware of a certain scam that is very popular today. There are actually a lot of sites that claim they can generate unlimited codes for PlayStation (among others).
These sites will promise that you can earn an unlimited number of gift codes for free by simply pressing a button. An option as convenient as this is certainly too good to be true. First of all, no sane company will offer that kind of opportunity. It's like they are handing out money.
What happens is, they will ask you to register and provide your contact details and even your credit card information so you can avail of the service. This is actually what they are after.
There have been a lot of passwords and even credit card information that has been compromised because of this kind of scam. So, make sure to stay away from those kinds of sites. Legit sites will never offer you that kind of opportunity. You will have to at least, work for it.
So, before you join a site promising this kind of opportunity, stay away from it. If it sounds too good to be true, it probably is.
​11 best sites to get free PlayStation gift cards
Now, let's get on with the list. Keep in mind that I will be focusing on what, in my experience, are the best sites you can join to earn PlayStation gift cards.
Following this guide will save you time because you do not have to test them yourself and then later find out that it's just a waste of time. I will keep updating this list if I come across any new good sites to join so make sure to bookmark this page.