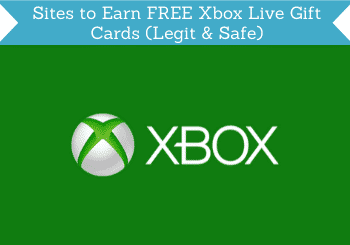 ​Playing video games can certainly be fun. It can even be a good way to relieve stress, and it has become popular for all ages.
Unfortunately, video games can be expensive – especially if you are playing on a game console like Xbox.
However, there's a way you can save money on your next Xbox Live purchase. You can join Get-Paid-To (GPT) sites and earn gift cards for Xbox Live for free.
You can use these gift cards for your next purchase to save a bit of money. You can even use these gift cards to pay for the whole thing if you've earned enough gift cards.
This guide will help you find the best sites to join to earn free Xbox Live gift cards. It will show you 13 legit and safe sites you can join to get these gift cards completely for free.
Disclosure: Some articles on this website contain affiliate/sponsored links. Click for more info.
How to get free Xbox Live gift cards?
As explained above, you can earn free gift cards for Xbox Live if you join a survey or GPT site.
If you are new to these sites, they are online rewards sites that will reward you in exchange for completing some tasks like answering a survey, registering for a website, watching videos, playing games, downloading apps, and more.
The reward you will receive will usually depend on the task you will have to do. In my experience, answering surveys pays higher than most other tasks, but you can also, at times, find paid offers that give really high rewards.
The rewards you will receive can then be used to exchange for certain items like gift cards, prepaid Visa cards, and even cash. So, most of these sites offer you the choice of which reward you want to redeem. To redeem a reward, you will have to reach a certain threshold.
That means you will have to keep doing the activities the sites offer to reach the threshold and redeem a gift card for Xbox Live. So, it will take some time before you can redeem your rewards, depending on the sites you join.
The good thing, though, is that these sites are all free to join. So, you don't need to worry about any registration fee.
How many gift cards can you get?
The number of Xbox Live gift cards you can earn on online rewards sites will mostly depend on how much time you are willing to spend on the said sites. Another factor that can contribute is the time-to-money ratio.
If a site pays you well, it will have a high time-to-money ratio. That means you have spent your time well because you earned a significant amount, and you don't have to spend more time than you have to to reach the threshold to redeem rewards.
Technically speaking, there's no limit to how many Xbox Live gift cards you can earn. It all depends on the free time you have. But there are ways to maximize your earnings to earn the most number of gift cards efficiently.
You can join several sites since they all offer different opportunities. Joining around 5 to 7 sites for a start is the ideal number because it will allow you to earn a good number of gift cards and still have enough free time to do whatever else you want to do.
13 best sites to get free Xbox Live gift cards
This list will focus on what, in my experience, are the best sites you can join to earn Xbox Live gift cards after having tested hundreds of free ways to earn online.
This list will help you decide which sites you can join, so you do not have to waste time testing them yourself to later find out that it's a waste of time.
I will keep updating this list if I come across any new good sites to join, so make sure to bookmark this page.