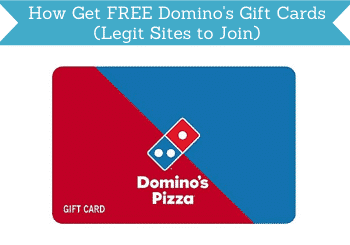 Everybody loves pizza. I have not met a person who doesn't like a good pizza. And one of the most popular pizza joints today is Domino's.
If you are among the millions who love to eat Domino's pizza, there's actually a way to get free Domino's gift cards so you can save on your next pizza from Domino's.
All you have to do is join survey and Get-Paid-To (GPT) sites that will allow you to earn rewards you can redeem for gift cards.
The thing is, there are a lot of survey and GPT sites out there today so it's virtually impossible to distinguish the best sites to join without doing a little bit of research. The reason why it's important to join a good site is obviously to save time.
That way, you can just go straight to registering to the best sites available that offer Domino's gift cards as a reward. This guide will list down 11 of the best and legit sites you can get these gift cards completely for free.
Disclosure: Some articles on this website contain affiliate/sponsored links. Click for more info.
How to get free Domino's gift cards?
As already mentioned above, to get free gift cards from Domino's, you can join GPT and survey sites.
If this is your first time hearing about these types of sites, they are basically online rewards sites that will ask you to answer surveys and do other micro-tasks and in exchange, reward you with gift cards and even cash.
Reading this guide will be a much better use of your time, in my opinion, compared to just trying out a site you think might be good. That's because you will know right away what the sites have to offer. It will be much more efficient than going through the whole process.
And if you're worried that these sites have a membership or subscription fee, then don't worry. All the sites listed below are all free to join, so it won't cost you a dime to become a member of these sites. You just need time and a bit of effort on your part.
How many gift cards can you get?
The way GPT and survey sites work is, the more offers you complete, the more rewards you will get.
But obviously, the sites have different opportunities and different earning potential. So, the number of gift cards you will get will vary.
Some sites will reward more than others because they have a higher reward-to-time ratio (higher earning potential). To put it simply, there are sites that pay better and these are the sites you should be interested on.
Now, if this is your first time joining these types of sites, I recommend that you join several sites. This is the best way, in my opinion, to maximize your time and earn the most gift cards as possible.
I suggest you join around 5-7 sites because this is the perfect number of sites to join without being too overwhelmed by the work you need to do. But if you are already familiar with how these sites work, you can join more as long as you feel like you can handle the load.
11 best sites to get free Domino's gift cards
Before we get to the list, you have to keep in mind that this list does not list all the sites you can earn Domino's gift cards from.  
It is instead a list of, in my opinion, and experience, the best sites you can join to earn gift cards with the least amount of time possible so you know they will be worth your time.
I will keep updating this list if there are any new good sites to join so make sure to bookmark this page.