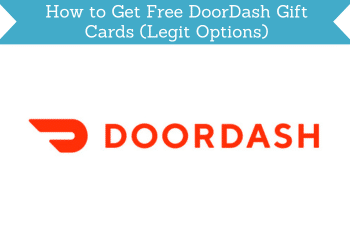 If you're a fan of ordering food delivery from DoorDash, then you'll be happy to know that you can get free DoorDash gift cards by doing small online tasks on free platforms.
It can, for example, be by completing surveys, watching videos, playing games, signing up for offers, and more.
This article will guide you through the process of how to get free DoorDash gift cards to save money on your next DoorDash order.
You will learn about the 7 best platforms for this, and all the options are legit and free to join, so all you have to do is invest a bit of time and some effort.
I will include a brief description of each option so you can easily identify which ones are the best fit for you.
Disclosure: Some articles on this website contain affiliate/sponsored links. Click for more info.
How many DoorDash gift cards can you earn?
The number of free DoorDash gift cards you can get will mostly depend on how much time you are willing to invest using the options I will be presenting.
You see, the options I will include on this list all offer a good number of earning opportunities, so you will be able to earn rewards regularly.
And in case you are wondering how you can earn these gift cards, well, let me explain to you how the process usually goes. To earn DoorDash gift cards, you can join a survey or Get-Paid-To (GPT) site. Once you become a member, you can work on short tasks to earn rewards.
You can then use the rewards you've earned to redeem DoorDash gift cards. That's why if you want to earn a lot of DoorDash gift cards, you have to complete a lot of short tasks, and that will require some time to do.
If you want to maximize the number of DoorDash gift cards you can get, I highly recommend you join 5 to 7 sites, so you can gain access to more opportunities to earn. This is the best way to earn as many rewards as you can and redeem as many free DoorDash gift cards as possible.
7 best sites to earn DoorDash gift cards
As I've mentioned earlier, the sites listed below are all legit and free to join, so you can just sign up as a member and start earning rewards right away.
I will keep updating this list if I find more good options in the future, so make sure to bookmark this page and check on it from time to time for newer opportunities.