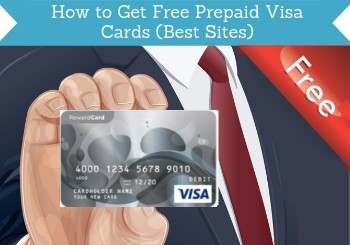 Having money on a card is an easy way to buy both online and in shops.
Did you know that it is actually possible to earn free debit cards to use for these purposes?
In this article, I am going to show you how to get free prepaid Visa Cards, what you have to consider before getting them, and show you the best sites to get them.
Disclosure: This article may contain affiliate/sponsored links. Click for more info.
What is a prepaid Visa Card?
Let's first quickly go over what a prepaid Visa card actually is.
Usually, a Visa card is linked to your bank account, and you will be able to spend money that you already have in your bank account.
A prepaid card is a bit different. In the words of Visa itself:

They explain that you can get the benefits of having a Visa card without worrying about credit checks, expiring funds or overdraft fees.
What this means is that because the card is not linked to your bank account, but it is a card that you have preloaded with funds, you will not be able to spend more money than you have. This can happen on a regular card, but not on a prepaid card.
So you can get a prepaid Visa without having a bank account, and you can load money to it, and then spend this money.
Be aware that there are a couple of different prepaid Visa card – you can get a regular prepaid Visa card, or a virtual Visa card.
The regular card is a card you will physically receive by mail and use it as a normal card. A virtual Visa card is a card that you do not receive physically, but you get an electronic code, and then you can use the funds online.
Both cards are as good as cash – it all depends on your preferences. You can also check out this list of the best Visa Gift Cards that can be used the exact same way.
What can a prepaid Visa card be used for?
So do prepaid Visa cards work, or is it just a nice idea?
Well, let me make it clear that they definitely do work. They are issued by Visa, which has been around for years and is reliable. So it is definitely a real way to have money.
And it is very easy to use.
There are some prepaid Visa cards that can only be used in your own country. This depends on the card you get. You will be able to find out if this is the case by reading the terms, where you get the card.
But in general, you can use a prepaid card as a normal Visa card. You can use it in any shop both online and offline if the shop or service accepts Visa debit.
If you get virtual visa cards, you can of course only use these for online shopping. But with what you can buy online nowadays, it will definitely not be a problem to find a way to use your virtual Visa card, if you get one of these.
The advantage of the virtual card is that since it is electronic, you can usually get it within minutes or hours after ordering it, whereas the physical prepaid Visa card has to be sent by post, which can take weeks in some cases.
Be aware that sometimes the prepaid cards have an expiration date like any other card. So make sure to use the credit before it expires.
Can you get these cards for free?
As you can see, there are plenty of ways to use a prepaid Visa card and a virtual Visa card.
To get them you of course need to load them with money. But there are actually sites that offer you to get these cards for free.
I have been using paid survey sites and get-paid-to sites (GPT) for years, and I have found several of these that offer prepaid Visa as rewards.
This means that you can sign up for these sites, do different tasks like answering online surveys, taking online micro jobs, do offers, watch videos, participate in contests, and more, and then earn rewards.
Once you have earned a certain amount (depending on the site), you can request a payout, and several of the sites that are worth joining offers prepaid Visa or virtual Visa as a payout method.
So if you want to earn some free prepaid Visa cards, this is possible on these sites. The great thing about taking surveys is for example that you do not only get paid, but you also have your opinion heard. And you can use these sites as little or as much as you want to.
Be aware that survey and GPT sites are not a way to replace a full-time income and will not make you rich. But it can make some nice extra money on the side, if you join the legit sites. You just need to do it with the right expectations.
10 best sites to earn free prepaid Visa cards
Prepaid Visa is in my opinion a great reward for participating on survey and GPT sites. Most sites however also offer other rewards, so if you at some point prefer getting paid differently like for example getting paid through PayPal or gift cards, this is also possible.
Below I have however made a list of the sites that offers prepaid Visa cards and virtual Visa as rewards, and that in my experience are the sites with the most opportunities.
To get the most opportunities it can be a good idea to join several sites, as this will give your more chances of earning. If you have not joined survey and GPT sites before, 5-6 sites are good for a start, so you have time to get to know how to use all they have to offer. You can always join more later (so remember to bookmark this page).