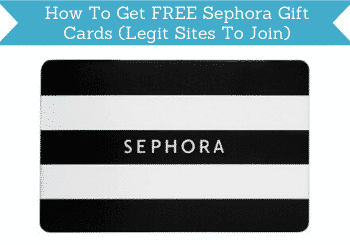 Looking to buy beauty products? Or do you just need to save a few bucks when you buy a beauty product? There's a way you can do both.
One way to get the latest beauty products that have hit the market is to shop at Sephora. If you are here looking for ways to save money on beauty products, then chances are, you are already familiar with what Sephora is.
So, I'll just skip right down to the business at hand, which is saving money when buying from Sephora. The way to do that is by using gift cards. Now, the question is, how to get free Sephora gift cards?
Well, there are actually plenty of sites that will allow you to earn Sephora gift cards. All you have to do is find the right ones.
This article will help you find the best sites to join so you can get free Sephora gift cards.  It will show you how and provide you a list of the best sites to join so you can get these gift cards completely for free.
Disclosure: Some articles on this website contain affiliate/sponsored links. Click for more info.
How to get free Sephora gift cards?
As stated above, there are a lot of sites that will allow you to earn Sephora gift cards for free. The best way, in my opinion, is to join a Get-Paid-To (GPT) or survey site.
If this is your first time hearing about these types of sites, basically these are sites where you have to do something and in exchange you will earn rewards that you can use to redeem gift cards and even cash.
Expect to do tasks, watch ads and videos, play games, take surveys, and more. Keep in mind that sites I will listed down in this article are all free to join.
So, you don't have to worry because it won't cost you a thing to sign up as a member. You just need to invest your time and have a bit of patience.
How many can you get?
In order to get a lot of gift cards, you will have to invest a significant amount of time. That's because the number of gift cards you can get from these sites will mostly depend on how active you are on it.
So, logically speaking, the more offers, surveys, tasks and other activities you complete, the more rewards you will get.
In theory though, there is no limit to how many Sephora gift cards you can get. But of course, you have to consider the amount of time you can spend working on these sites.
Ideally, you will want a site that pays well. If a site pays well, that means less time will be spent to accumulate rewards.
These will be the sites I will be including in the list below. I will also include what each site can offer and how quickly you can earn from it.
Now, I recommend that if you want to get the most chances of earning, you have to join several sites since they all offer different earning opportunities.
I suggest you join around 5 to 7 sites. This is the perfect number of sites to join without being too overwhelmed if you are new to these type of sites.
11 legit sites to get free Sephora gift cards
This list is by no means the only list of sites you can earn Sephora gift cards on. This is just a list of what I believe are the best sites to join based on the parameters I mentioned above.
The main factor I based my choices on is the money/time ratio, the number of opportunities, and how easy it is to use. So, the sites in this list all have those qualities or at least, most of it.
To put it simple, these are the sites that pay well for your time. I will keep updating this list if there are any new good sites to join so make sure to bookmark this page.