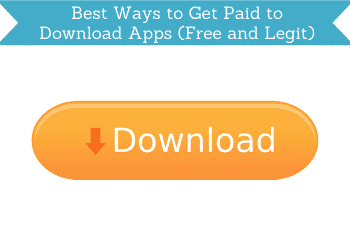 Being able to earn some extra cash simply by downloading apps sounds great and easy, right?
Even though it almost sounds too good to be true there are actually plenty of legit ways to earn like this. Since there are so many sites and apps offering this kind of opportunity it can be hard to find the ones that are actually worth your time.
I have done a lot of testing myself and to make it easy for you to get started, I have put together a list of the 13 best ways to get paid to download apps.
They are all free and legit and if you do it with the right expectations, it can be a great way to earn some extra cash on the side – and it can be fun at the same time.
Disclosure: Some articles on this website contain affiliate/sponsored links. Click for more info.
Why can you get paid to download apps and how does it work?
If you are new to this kind of earning opportunity, let me explain how it works. Basically, there are sites and apps called Get-Paid-To (GPT) sites/apps.
They offer different micro-tasks you can do to earn some extra money on the side – one of these methods is often that you can download apps and get paid for doing this.
The apps can, for example, be mobile games and other GPT apps.
The sites are paid to promote these apps and will share some of the profit with you – and this is the reason you can get paid to download these apps.
Usually, you will have to fulfill certain requirements after downloading the app like reaching a certain level if it is a game you download or have it open for a certain amount of time if it is another kind of app.
So you need to make sure you read the conditions before each app download carefully so you know what to expect.
Usually, the more requirements there are, the higher reward you will also get. But you can always see all this before deciding which apps you want to download.
How much can you earn?
Get paid to download apps tasks pay quite decently in my experience. However, if you are expecting these sites/apps will allow you to earn a lot of money, then you will be disappointed. It is important to set your expectations properly before starting.
The money you will earn from these sites/apps will in no way be comparable to what you can earn from a full-time job. So, let's make this clear. That being said, these apps will still allow you to earn a decent amount of extra cash – and at the same time it can be fun to get to test all these different apps.
If you want to maximize your earnings, you should join around 5 to 7 sites on this list. Since they are all free to join, the only thing you need to invest is your time and a bit of effort.
13 best ways to get paid to download apps
It's important to note that this will not be a complete list of all the ways you can get paid to download apps. Instead, I will only be including what I think are the best ones to join. These will be the apps and website where you can get the most out of your time.
I will keep updating this list if there are any new good sites to join. So make sure to bookmark this page.