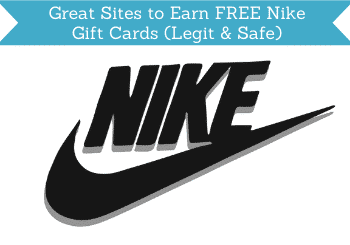 If we talk about shoes and sports clothes, the first brand name that automatically comes to mind is Nike.
In fact, this name has become synonymous with sports equipment. Most people have owned at least one pair of Nike shoes or clothes at some point or another.
Probably the reason behind this is, well, Nike just makes good products. Now, the good thing is, there's actually a way for you to get Nike stuff for free (or at the very least, buy it at a very discounted price).
This guide will help you figure out the best sites to join to earn Nike gift cards. It will list 10 of the best and legit sites where you can get these gift cards completely for free.
Disclosure: Some articles on this website contain affiliate/sponsored links. Click for more info.
How to get free Nike gift cards?
The sites that offer free Nike gift cards are called Get-Paid-To (GPT) and survey sites. And to earn the said reward, you will have to become a member of some of these sites.
If this is the first time you're hearing about these types of sites, then let me explain what it does. GPT and survey sites are online rewards sites that will pay you for completing their offers.
Most of the offers will either ask you to complete a survey or some kind of task. Once you've completed the offer, you will then receive a reward.
One such reward is Nike gift cards (among others), which you can use for purchasing your next pair of Nike shoes, for example. Of course, there are also other rewards offered that I'm sure you will be interested in. And if you are wondering, yes, you will also be able to earn cash on most of them as well.
The good news, as mentioned above, is that all the sites I will be listing down are free to join. So, it won't cost you anything when you become a member.
You just need to put in your time and a bit of effort but all the sites on this list give really great opportunities and are 100% legit.
How many gift cards can you get?
With a GPT or survey site, the number of Nike gift cards you can get will mostly depend on how active you are on the site. Obviously, the more offers you complete, the more rewards you can earn. That's how these types of sites work.
So, theoretically speaking, there's no limit to how many Nike gift cards you can get. Of course, it will all boil down to how much time you are willing to spend on these sites.
The sites you should be looking for are those that offer the best money/time ratio. To put it simply, these are the sites where you can earn the most for as little time investment as possible.
Now, I recommend that you should join several sites to maximize your time, and since they all offer different opportunities.
Ideally, you can join around 5 to 7 sites and earn a good number of gift cards for Nike without becoming too overwhelmed by what you have to do.
10 best sites to get free Nike gift cards
This list is focused on what I think are the best sites you can join to earn the said reward so you do not have to waste time testing a lot of sites yourself.
All the sites on this list all have good earning potential and I will keep updating this list if I come across any new good sites to join so make sure to bookmark this page.