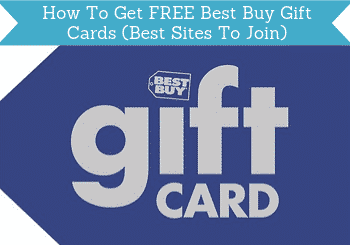 If we talk about retail stores, Best Buy is among (if not on top) the best stores to buy products that you are looking for. It has an extensive catalog of products available and holds sales regularly.
But aside from the sale they hold from time to time, another way to save money when buying from Best Buy is to use gift cards. There's a saying that "money saved is money earned".
So, in reality, if you are able to save from buying products on Best Buy using gift cards, you are effectively earning money. But how do you get free Best Buy gift cards?
That is actually possible, and this article will show you how and provide you a list of the 9 best sites you can get these gift cards completely for free.
Disclosure: Some articles on this website contain affiliate/sponsored links. Click for more info.
How to get free Best Buy gift cards?
Normally, you can earn gift cards by joining a Get-Paid-To (GPT), Paid-To-Click (PTC), or survey site.
But since there are a lot of these sites floating around, it would be much more efficient to join sites that will allow you to earn the most gift cards with less time investment.
For the uninitiated, sites like these will allow you to earn Best Buy gift cards by completing surveys, playing games, and doing other kinds of stuff.
And in return, you can accumulate points or a specific amount you can use to convert them into Best Buy gift cards (or even cash for that matter).
All of the sites I will show you below are free to join, so it won't cost you anything if you register to become a member.
How many can you get?
The premise for earning gift cards from these sites is, the more offers you complete, the more rewards you will get. And the more rewards you have, the more gift cards you can receive.
But not all sites are created equal. Some sites are better than others in terms of reward-to-time ratio. To put it simply, there are sites that offer higher rewards for a lesser amount of time spent.
These are the sites you should join. This is where this list will come in. It will show you what each site has to offer and how fast you can earn Best Buy gift cards from it.
If you want to get more gift cards though, it is a good idea to join several sites since they all have different opportunities.
If you are new to these kinds of sites, joining 5-7 will give you great opportunities without being too overwhelmed.
9 best sites to get free Best Buy gift cards
Keep in mind that this list is not the be-all-end-all of sites you can earn Best Buy gift cards from. It is simply, in my opinion, and experience, the best sites you can join to earn gift cards with the least amount of time possible.
I will keep updating this list if there are any new good sites to join so make sure to bookmark this page.