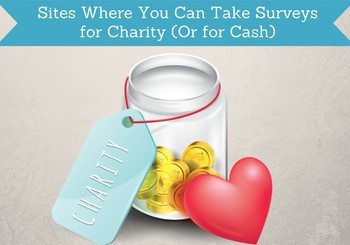 Would you like to answer surveys to support a good cause?
Then there are plenty of survey sites that offer this opportunity, and this way you can donate to charities without having to actually pay anything.
Many of the platforms do however also offer you cash to yourself as a reward instead if you prefer this once in a while.
Below, I will show you 9 legit sites where you can take surveys for charities – they are all easy to sign up for, 100% free to join, and you can get started in a few minutes.
Disclosure: Some articles on this website contain affiliate/sponsored links. Click for more info.
How do you make money for charities on surveys?
How you exactly make money for charities by answering surveys depends on the platforms you join.
However, in short, it can be explained very simple:
You join a survey site that offers donations to charities as rewards.
You start answering surveys, and you will start collecting money that is paid by market research companies.
Once you have earned enough to meet the payout threshold, you choose which charity to donate to.
Every platform has different charities they cooperate with, and they also have different payout threshold.
Below, I will go over the different options for the different platforms, so you can join the ones that fit you the best.
Also, be aware that some of the sites extra ways to earn in addition to taking surveys. These sites are often called GPT (Get-Paid-To) sites. If you join some of these, it can really boost your earnings to use some of these other earning methods.
Can you use your rewards for other things than charities?
If you are wondering, if you can only earn money on survey and GPT sites for charities, then the answer is no.
On many of the sites, you can also choose different rewards, so if you sometimes want to donate to charities and other times want to get the money in cash for yourself, then that is also an option on most platforms.
However, if you mostly want to earn money for yourself, I would suggest you check out the top paying survey sites instead, as the list below is a list of sites that offer good opportunities to donate to charities.
So let's get to it and go over some of the best sites, that allow donations to charities as a reward for answering surveys.
9 survey sites where you can make money for charities
The list below is not a complete list of all the survey sites that have charity donations as a reward.
But it is a selected list of the sites, I have found that give the best opportunities to take charity surveys in terms of the number of surveys you can take, the amount of money you can make, and the charities you can donate for.
To get the most opportunities, it is best to join several sites so you will get more earning opportunities.