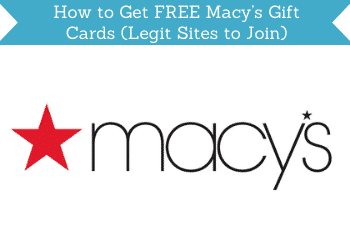 If you love shopping, you've probably already bought something from Macy's. This American department store is known for its trendy clothes and its yearly Thanksgiving parade.
Now, if you frequently shop in this store, there's actually a way to save money on your next purchase. That's by using gift cards. And if you've got enough gift cards, you don't even have to shell out your own money.
So, how can you get your hands on free Macy's gift cards?
Well, this guide will show you which sites you can join so you can earn gift cards from Macy's. It will show you the best and legit sites you can join to earn that kind of reward as well as other types of rewards.
Disclosure: Some articles on this website contain affiliate/sponsored links. Click for more info.
How to get free Macy's gift cards?
If this is your first time hearing about earning free gift cards from Macy's, let me explain to you how it works. There are online rewards sites called survey and Get-Paid-To (GPT) sites that will reward you for completing the activities they offer.
As you can probably tell, survey sites will reward you for answering surveys. GPT sites on the other hand, offer a bit more variety in terms of earning opportunities. You will mostly have to complete short tasks that will ask you to do different things like answering surveys or quizzes, playing games, watching videos, and a lot more.
This guide, as mentioned, will point you in the right direction so you don't have to do the trial-and-error process to determine the best sites to earn gift cards from Macy's.
Take note that all of these sites are legit and free to join, so there won't be any membership or subscription fee involved. You just have to put in the time and the effort needed to earn rewards from these sites.
How many gift cards can you get?
The general rule of these online rewards sites is, the more work you put in, the more rewards you will earn. For survey sites, of course, the more surveys you answer, the more you will earn. For GPT sites, the more tasks/offers you complete, the more rewards will be credited to your account.
Now, since these sites offer different ways of earning, you can't really specify the number of gift cards you can earn from each site. But the best way to maximize your earnings is to join around 5 to 7 sites to get the most out of your time and still have plenty of time left to do other stuff.
If you want to earn more and if you feel like you got plenty of time left to spare, you can always join more sites to earn more rewards.
Also, a thing to note about these sites is, they also offer other rewards aside from Macy's gift cards. You can even earn cash, if you prefer it that way.
11 best sites to get free Macy's gift cards
The below will not be a complete list of sites where you can earn Macy's gift cards. Instead, it will be a list of the best sites you can join to get the most out of your time. In other words, these are the sites that have the best time-to-money ratio.
I will keep updating this list if there are any new good sites to join so make sure to bookmark this page.