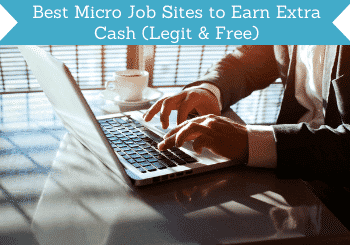 If you are looking for free and easy ways to earn some extra money online, there are plenty of microtasks you can do.
You can find these jobs on micro job sites, which offer temporary work or small tasks you can do from anywhere.
The question is, with so many micro job sites available, which ones should you join?
Without proper research, you can end up wasting a lot of time, as not all sites are worth it.
That's why I've decided to create a list of the best micro job sites you can join, so all you have to do is follow it to find out which ones you should join. This is based on my own testing after having tested hundreds of different free ways to make money online.
It will save you a lot of time. Plus, you will be able to know exactly what to expect from a site before you even sign up. All the sites I will include in this guide are all legit and free to join. So, you can just register and start earning right away.
Disclosure: Some articles on this website contain affiliate/sponsored links. Click for more info.
How are the opportunities to earn on micro job sites?
As mentioned above, there are plenty of micro job sites available. Plus, these micro jobs sites have big clients, so there will always be a steady source of jobs you can do to earn. So, to answer the question, the opportunities are actually pretty good.
And the great thing is that most of these sites will allow you to join and earn no matter the country you are from, even though there can be some differences in the number of opportunities depending on your country.
The question now is that since there are many opportunities, how will you choose the right sites to join? To do that, you have to get a good idea about the earning potential of the different sites.
Ideally, you, of course, want to join a micro job site that not only offers plenty of opportunities but also pays well. You also want a site that offers a realistic payout threshold. When I say realistic, what I mean by that is something you can easily reach.
And lastly, you want sites that offer convenient payment methods.
All the sites I will include on the list below will have a good score in all the categories mentioned. Your job is to simply figure out which sites suit you the best.
How to earn the most?
To maximize your earnings from these sites, you have to choose the right earning opportunities and use as many of them as possible.
Exactly which opportunities are available differs from site to site, but on the list below, I will give you a quick overview of the jobs/tasks the different sites offer so you easily find the ones that are the most interesting for you.
On the list, you can also find links to full reviews and tutorials of each of the platforms, so you can get in-depth info about exactly how to use each earning method for your chosen platforms. 
Aside from taking full advantage of all the earning opportunities, another good way to maximize your earnings is to join around 5 to 7 sites. By doing so, you will gain access to more earning opportunities which will naturally lead to more earnings.
But always remember, when you join these sites, the money you can earn will not be comparable to what you can from a full-time job. These sites aren't exactly a replacement for a day job. If you head in with that kind of expectation, you will just be disappointed.
That being said, you can still earn a decent amount of money by putting in a bit of effort and time regularly.
And it is something you can do no matter your background, and you can start earning already today.
9 top micro job sites
As I've mentioned earlier, this guide's goal is to help you find the best micro job sites you can join.
So, I will only include sites that are really worth your time instead of listing as many sites as possible.
I will keep updating this list so make sure to bookmark this page and check back from time to time for new opportunities.