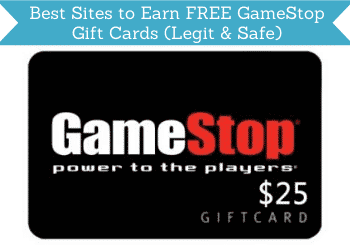 Gaming is a very fun hobby but an expensive one. This is especially true if you really want to play a lot of games, which is most of the time.
First, you have to buy a gaming console, which isn't cheap. Then you have to buy the game you want to play. Fortunately, there are ways to stave off the cost.
You can actually join sites that offer free GameStop gift cards. You can use these gift cards for your next purchase at one of the most popular game stores around.
And this guide will help you figure out the best sites to join to earn GameStop gift cards. It will list 11  legit and safe sites you can join to get these gift cards completely for free.
Disclosure: Some articles on this website contain affiliate/sponsored links. Click for more info.
How to get free GameStop gift cards?
The sites that will allow you to earn free GameStop gift cards are called survey and Get-Paid-To (GPT) sites. To earn rewards, all you have to do is become a member of any of these sites.
If you are new to these sites, the premise is, you do stuff in exchange for rewards. GPT and survey sites are basically online rewards sites that will pay you for completing their offers.
The offers you can expect to do will either ask you to complete a survey or some kind of tasks like for example watch videos, download app, play games, and more. If you complete the offer, you will then receive the reward promised.
And among the rewards for these sites is GameStop gift cards. There are also other rewards offered you can choose from if you prefer other gift cards. And yes, you will also be able to earn cash on most of these sites as well.
The good thing, as explained above, all the sites I will be listing down are free to join. All you need to invest is your time and a bit of effort.
How many gift cards can you get?
The way these sites work is, the more offers you complete, the more rewards you can earn. So, basically, you just need to be more active to earn more rewards.
Theoretically speaking, there's no limit to how many GameStop gift cards you can get. But, it will all come down to how much time you can spend on these sites.
With that in mind, the ideal sites to join are those that offer the best money/time ratio. Because these are the sites where you can earn the most for less time spent.
And in order to maximize your earnings, I suggest you should join several sites since they all offer different opportunities. Ideally, joining around 5 to 7 sites for a start will allow you to earn a good number of gift cards without being too overwhelmed by what you have to do.
11 best sites to get free GameStop gift cards
This list below will be focused on what, in my experience, are the best sites you can join to earn. It can help you figure out which sites to join so you do not have to waste time testing a lot of sites yourself.
I will keep updating this list if I come across any new good sites to join so make sure to bookmark this page.