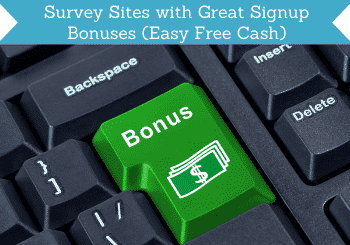 Joining a survey site or a Get-Paid-To (GPT) site is an effective way to earn extra cash. That is, of course if you join a legit site that will really pay you for answering the surveys and completing micro-tasks.
On the best sites, you will easily find enough opportunities to reach the payout threshold. If it is your first time hearing about this term, a payout threshold is the amount you will need to reach to redeem rewards or withdraw your earnings.
But if you want to make it even easier to reach the threshold, joining sites that give signup bonuses can be a great way to get some easy free cash from the start.
This is where this guide comes in handy. It will help you identify the best survey sites with great signup bonuses so you don't have to waste your time signing up for sites that don't have signup bonuses.
Disclosure: Some articles on this website contain affiliate/sponsored links. Click for more info.
How to claim your bonuses?
Signup bonuses, when you really think about it, are free money. They are very easy to claim for the most part. All you have to do is sign up using the join buttons on the list.
Most of the sites will reward you with the signup bonus as soon as you finish the registration process. It will appear in your account right away.
While on some sites, there are a few conditions you have to meet before you will receive the bonus.
Sometimes it will only award the bonus once you've earned a certain amount or once you have filled out your profile. Other times, sites will ask you to spend a certain amount for you to receive the bonus (if it is a cashback site).
On the list below I will explain what the conditions are for each site (if there are any) so you will know exactly what to expect and how you get your joining bonuses.
How much money can you earn from joining bonuses?
Typically, the bonus you will receive will range from $5 to $10. It's really not a lot of money but it's a nice addition to have since usually, you don't really have to do anything special to get it.
All you have to do is sign up for the site and you automatically qualify for the bonus. The times where you are required to meet a certain requirement to receive the bonus, the amount you will receive will usually also be higher. So, it' really worth making sure you receive the bonus.
The whole idea of signup bonuses, in my opinion, is to give you a slight boost so that you will be motivated to work on the site and reach the payout threshold a lot quicker.
13 best sites with great signup bonuses
All the sites I will be including on this list are free to join. Keep in mind though that the sites on this list are not the only sites that offer signup bonuses.
It is instead a list of the best sites you can join to get the most value out of your time so you do not only get free cash from the start by also have good earning opportunities in general. I will keep updating this list if there are any new good sites to join so make sure to bookmark this page.