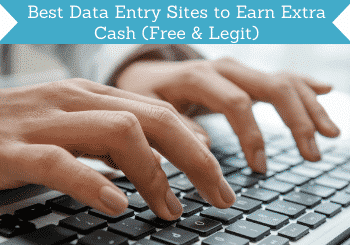 If you are looking for a simple way to make money in a flexible way, joining a data entry site can be a great option.
In most cases, you don't really have to do any complicated tasks, and you do not need any special technical skills.
It can be a good way to earn some extra cash while you are at home. And in some cases, you can even turn it into a full-time income if you get the right data entry jobs.
However, there are A LOT of data entry jobs around, and there are also many scams you need to avoid. So, it can be very time consuming to find out which sites you should join to find the options that are worth it.
This guide on the best paid data entry sites will help you figure out which sites are the right fit for you.
By reading this guide, you will find out which sites are worth joining without having to test all the available sites first. All the sites I will include in this guide are legit and real ways to earn.
But if data entry isn't really your cup of tea, I would suggest you check out my list of the best survey and Get-Paid-To sites in other countries instead.
Disclosure: Some articles on this website contain affiliate/sponsored links. Click for more info.
Are data entry sites genuine and really a way to earn?
Now, as I've mentioned above, all the sites in this guide are legit. But that doesn't mean that all data entry sites are legit.
There are still scams out there that you need to stay away from. The trick is to spot which sites are legit and which are scams even from a mile away.
In my experience, legit sites are usually very transparent with how you can earn. If the site you encounter only gives vague details about how you can earn, in my opinion, you should stay away from them. Aside from that, they are also very transparent about how you can withdraw your earnings.
Also, if a site offers data entry jobs that pay 10 times more than other sites offer for the same type of tasks, the reason is likely that they are never going to pay you.
And a big warning site is if a data entry site charges you to earn, as many sites that do this are just going to scam you.
These are the most important things you need to look for to identify if a data entry site is genuine or not. There are other factors you can look out for, but the general idea is that legit sites are always upfront with what they offer.
Now, as for whether it is a real way to earn, the simple answer is YES. Data entry sites can be a good source of extra cash, provided you set your expectations properly.
In the next section, I will explain how much money you can expect to earn from these sites.
How much can you earn from data entry jobs from home?
There are different types of data entry jobs you can do from home.
There are, for example, transcription sites where you have to type everything you hear from a video or audio file. There are also captcha sites that will allow you to earn by simply solving captchas. But data entry jobs can basically be anything where you need to collect or sort data in one way or another.
Usually, it will involve typing, which is the main skill you will need if you want to do data entry jobs. But AI training tasks where you need to use human intelligence to train AI tools have also become very popular. For these types of jobs, you, for example, need to identify items on images, do annotations, and similar tasks.
Now, in my experience, data entry jobs aren't always the most rewarding jobs. The main reason for this is that the jobs aren't really that complicated. And the earnings will usually be proportional to the effort and time required to finish these jobs. The simpler the job is, the less you will earn from it.
But this depends a lot on the type of jobs you find. You can find actual jobs where you can do this full-time and make a living, and then there are data entry sites that just offer you small tasks here and now, and those will usually not pay much.
For example, on captcha sites, you will usually earn only around $1 to $3 per 1,000 captchas you solve. So, you will need to invest a lot of time to earn a significant amount, and this is one of the worst paid data entry jobs you can do.
However, if you are really good at, for example, transcribing or get an actual data entry full-time position, you can potentially build it up to become a good full-time income.
But it's important to go in with the proper expectations. The amount you can earn from these sites will, in most cases, not be comparable to what you can earn from a full-time job. That being said, you can earn a decent amount if you join several sites.
19 best data entry sites
Keep in mind that this is not a complete list of data entry sites available. Instead, this will be a list of what I think are data entry websites to earn money that are actually worth considering. In other words, these are the sites you can earn a decent amount from.
I will keep updating this list, so make sure to bookmark this page and check back from time to time for new opportunities.