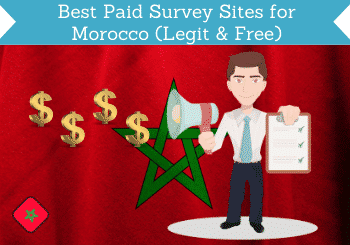 If you are looking for ways to earn some extra money online from Morocco, there are plenty of options to choose from.
The bad news is that it can take a lot of time to try all those options one by one to find the worthwhile ones.
To lighten the burden, I have a list of the best paid survey sites for Morocco. That way, you don't have to try out every site you can find to figure out if it is worth your time or not.
This guide will not only show you the best survey and Get-Paid-To sites you can join if you live in Morocco. It will also show you what these sites have to offer so you can easily decide which ones are the right fit for you.
All the sites I will include in this guide are legit and free to join. Once you are a member, you can start earning right away.
If you do not live in Morocco, I would suggest you check out my list of the best survey sites in other countries instead.
Disclosure: Some articles on this website contain affiliate/sponsored links. Click for more info.
How are the opportunities for paid surveys in Morocco?
The short answer is that there are ok. It is definitely not the country with the most survey sites, and I am often asked about how to find sites that actually give good opportunities for Morocco.
However, if you know where to look, there are actually some really great opportunities to make some extra money online for free in Morocco.
I have tested hundreds of sites over the last few years, and during that period, I have come across some really great sites for Morocco, which means you do not have to do all the testing yourself but can just look at the list below.
Ideally, you will want to join a site with good earning potential and a good time-to-money ratio. You will also want a site with a relatively low payout threshold and convenient payment options.
All of the sites I will include in this guide have good scores in these categories. 
But just be aware that you won't be able to earn the same amount from every site, which I will elaborate on in the next section.
How to earn the most?
As mentioned, you can't expect to earn the same amount from every site you join because they all offer different earning opportunities. But there's a way to maximize your earnings, and that is to join multiple sites.
I would recommend you join around 5 to 7 sites at the beginning. This is, in my opinion, the right number of sites to join to get you started so you won't get overwhelmed with the work you need to do. Once you get familiar with those sites, you can always join more later on.
But if you are already very experienced with these kinds of sites, you can just join all the sites listed.
Another way to boost your earnings is by being aware that many of the sites offer other earning opportunities than just surveys.
These are called GPT sites (Get-Paid-To), and in addition to earning by taking surveys, these sites also offer earning methods like watching videos, playing games, participating in free contests, social media tasks, and more.
So make sure to use some of these different earning methods.
Just remember, the money you can earn from these sites will not be comparable to what you can earn from a full-time job, and they will not make you rich, so you need to join with the right expectations.
12 top survey sites for Morocco
The list below is not a list of all the sites you can join if you live in Morocco. Instead, it is a list focused on quality and will list only the best sites that are actually worth your time.
I will keep updating this list, so make sure to bookmark this page and check back from time to time for new opportunities.