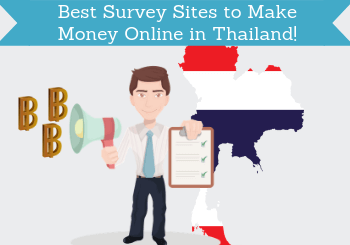 Are you interested in making money online from Thailand?
Then an easy way to make some extra cash is to join Get-Paid-To (GPT) sites and paid survey sites.
Not all of these sites are worth it though – if you join the wrong sites, you can end up wasting your time.
I have therefore created a list below with the 17 best survey sites in Thailand – they are all legit and free to join!
Disclosure: Some articles on this website contain affiliate/sponsored links. Click for more info.
How are the opportunities for paid surveys in Thailand?
The amount of opportunities you get on GPT and survey sites depends a lot on the country you live in.
So how are the opportunities to make some extra money online like this in Thailand?
Let me be honest with you and say that Thailand is not the country with the most opportunities. BUT it actually still gives you access to some really great sites with good opportunities.
Many of the sites offer several ways to earn, so if you combine taking surveys with some of the other possible micro online tasks, you can make some nice extra money. The sites that offer several ways to earn are usually referred to as GPT sites (Get-Paid-To).
Ways you can earn on these in addition to paid surveys include taking offers, doing social media tasks, playing games, watching videos, participating in free contests, downloading apps, and more.
So make sure to use some of these other earning methods as well as it can really boost your earnings.
One thing you have to be aware of before joining these sites is to manage your expectations.
It will NOT be a way to become rich or make a really good income. GPT and survey sites are a great, easy, and fun way to make some extra cash, but you have to do it with the right expectations.
If you do it with the right expectations, it is a great opportunity and one that has no risks at all, if you join the legit sites, as they are 100% free to join and use.
17 best online survey sites in Thailand
There are quite a few survey and GPT sites you can join from Thailand. But as already mentioned, it is not all about how many sites are available.
Many sites are just a waste of time, and there are even scam sites that will end up costing you money instead of making you any.
The list below is therefore not a complete list of all the sites that are available in Thailand, but instead a quality list of the best legit.
To get more chances of earning, it is best to join several sites (I recommend 5-7 sites for a start), as they all have different offers and opportunities.