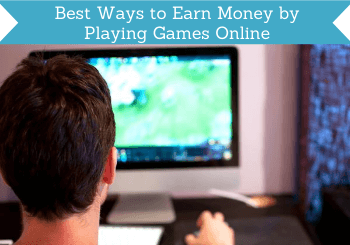 If you love playing games online, you can actually earn from this hobby.
Not only will you have fun, but you can earn some extra cash on the side.
It sounds like a good deal, right? That's because it really is. In my opinion, it's one of the best ways to earn extra cash online without getting bored quickly.
Now, the question is, how will you be able to earn from playing games online?
There are actually sites and apps that will reward you for doing so. In fact, there are so many apps and sites that it can be quite hard to distinguish which ones will be worth it.
And there are many scam apps and websites also, so if you do not know what to look for, you can end up losing both time and money instead of earning.
I have tested hundreds of ways to make money from home, and this guide will help you find the best ways to earn money by playing games online.
It will list down the best apps to earn by playing games as well as the best websites to earn by playing games. These platforms are all free to join and legit.
But before you sign up, it is important to do it with the right expectations so you won't get disappointed in the long run – this article will also explain how much you can earn, so you know exactly what to expect and can then decide if this is a good option for you or not.
Disclosure: Some articles on this website contain affiliate/sponsored links. Click for more info.
Why can you get paid to play games online, and how does it work?
As you can probably guess, the way these sites and apps earn is usually by promoting pc games and even mobile games. Game companies pay them to help promote a certain game and get more players. In turn, they will pay you to play these games.
That's basically how both you and the site/app earn money. Now, for you to be able to make money from playing games, you have to sign up for these platforms. And there are both websites and apps that offer this opportunity, so you an earn from any device.
Once you become a member, you will be given access to game offers, among other things.
These game offers will have some instructions or requirements you need to follow or meet to earn the reward. Some offers will ask you to install the game, and on other platforms, you can earn by playing directly in your browser.
If you prefer mobile games, there are also offers that will ask you to download Android and iOS mobile games. So, there really isn't any compatibility issue you need to worry about.  
As for the requirements needed, it usually involves you having to reach a certain level or play for a certain duration to earn the reward. Those are the most common requirements you will encounter.
On some apps/sites, you will also be able to keep earning more the more you play the game. On the list below, I will give you an overview of the ways you can earn by playing on the different sites/apps so you can easily find the ones that fit you the best.
How much can you earn?
As I've mentioned at the start of this guide, it is important to set your expectations when wanting to earn by playing games online.
Although you will be able to earn a decent amount from these kinds of sites, it will still not be comparable to what you can earn from, let's say, a full-time job.
If you want to earn that much playing games, you would need to become a professional gamer or find a full-time game tester job, and that is not something you can just do and get started with easily.
Also, be aware that there are many scam apps and websites that claim you can earn hundreds of dollars per day from playing for a few minutes. Any app or website that makes crazy claims like this will end up scamming you, so stay away from platforms like that.
The options we are talking about in this article are instead REALISTIC ways to get paid to play games online, no matter your background or skills, and it is something you can get started with right away.
In my experience, you will be able to earn some nice extra cash on the side from playing games online through the options I will show you below.
However, in my opinion, the real value of sites/apps like this is that they offer a fun and exciting way to earn extra cash. If you already love playing games online, the money you will earn will just be a bonus.
Also, it is something everyone can do, and you can start earning from day 1. So if you do it with the right expectations, it definitely can be a great and fun opportunity.
Now, if you really want to maximize your earnings, I suggest you join around 5 to 7 sites. This is the perfect number of sites to join without getting too overwhelmed by what you have to do to earn. You can always join more later if you feel you can handle it and want access to as many games as possible.
16 best ways to earn money by playing games online
Take note that the sites/apps I will include on this list will not be all the sites you can join to earn by playing games online. Instead, I will only be including the sites that offer the most efficient ways to earn.
In short, these are the sites that offer a good time-to-money ratio. I will keep updating this list if there are any new good sites to join. So make sure to bookmark this page.