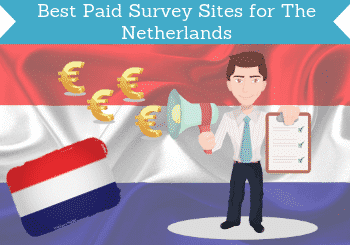 Do you want to make some extra cash online by taking surveys for money in the Netherlands?
Then you, first of all, need to find the right sites to join.
There are a lot of sites you can join, but unfortunately, many of them will be a waste of time.
Therefore, I have made this list of the 22 best paid survey sites for the Netherlands so you can easily get started with sites that are worthwhile.
They are all legit, they actually pay, and they are completely free to join and use.
If you do not live in the Netherlands, you can instead check out my list of the best survey sites in other countries.
Disclosure: Some articles on this website contain affiliate/sponsored links. Click for more info.
How are the opportunities for paid surveys in the Netherlands?
One of the things that is the most important when it comes to your chances of making money by taking surveys online is the country you live in.
Some countries have a lot of opportunities, and some do not have so many.
So how are the opportunities to take paid online surveys in the Netherlands/Holland and make money like this?
In fact, your options are pretty good if you live here.
Many of the big survey sites are available here, and there are also quite a few sites that have their own survey panel just for the Netherlands (I will show you the best of them on the list below).
Just be aware that even though you have good opportunities, this does NOT mean you will be able to make a full-time income or become rich by taking surveys.
It can be a great way to make some extra cash on the side without any investment at all, and at the same time, you will have your opinion heard. And if you want to make money online in the Netherlands for free and with a method where you can start earning from day 1, this is one of the only legit ways you can find.
You just need to do it with the right expectations – then it can be a great opportunity.
How to earn the most?
I have used hundreds of survey sites myself, and there are a few things that can maximize your earnings I just want to share with you.
One thing is to be aware that many sites that offer paid surveys in the Netherlands also have other ways to earn.
These are often called GPT (Get-Paid-To) sites.
Here you can earn by not only taking surveys but also by signing up for free trials, participating in contests, downloading apps, doing online micro-tasks, clicking ads, watching videos, getting cashback when shopping online, and more.
On the list below, you can see which sites offer several ways to earn so you can find the ones that fit you the best.
Make sure to also use some of these other earning methods. It can really boost your earnings.
Another very important thing is to make sure to join several sites.
The different sites offer different opportunities, so by joining more, you get more earning opportunities.
If you have never used survey and GPT sites before, I would suggest you start by joining 6-8 sites. That gives you enough opportunities, but you will still have the time to get to know all the opportunities on each site.
Once you have more experience and know how the sites work, you can join more.
22 top survey sites for the Netherlands
Let's now go over the best GPT and survey sites to make some extra money online if you live in the Netherlands.
This is not a complete list of all the sites that are available here but a select list of the best sites that are actually worth it.
The list is regularly updated, so make sure to bookmark this page and come back and check for new opportunities once in a while.