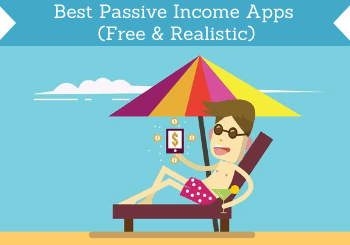 Earning a passive income online has become very popular.
However, it is also a widely misused term, and many articles that claim to show you passive ways to earn are not really showing truly passive ways.
Also, before finding the options for you, it is important you do it with the right expectations.
This article will clarify exactly what you can expect, what to look for, and will show you the 19 best passive income apps and websites in 2024 based on my experiences after having tested hundreds of ways to earn online.
These apps will both be for iOS and Android, and there will also be options for computers and tablets. They will be TRULY passive ways to earn, and you can find options that will work no matter the country you live in. And they will be completely free to use as well.
Disclosure: Some articles on this website contain affiliate/sponsored links. Click for more info.
Are passive income apps truly a passive way to earn?
As mentioned at the beginning of this article, passive income is a very overused and misused term today.
There are many articles that claim to show you passive ways to earn on your phone or tablet through apps, but in reality, they are not really passive.
Often, you will see that you have to put in quite a lot of effort. In my definition, that is not really to earn passively, then.
Therefore, I decided to put together this list of apps for both iOS and Android where you can earn truly passively.
This means that you can earn just by having the apps installed and not doing anything extra.
Also, all of the options will be free to use and get started with, so you do not have to invest anything to earn.
However, it is very important you do this with the right expectations. So, let's go over how much you can earn by using apps like this so you can see if this is what you are looking for or not.
How much can you earn passively through free apps and websites?
If you have been looking for ways to earn passively online for free for a while, you have likely come across some big claims about how easy it is to earn without any effort.
Let me just make one thing clear – there is NO magic way to make a living online without effort. People and sites that claim this are trying to sell you a dream just to make money for themselves.
In general, if you want to make a living online, this is not something you can do passively. It will require a lot of effort and time.
But if you are looking for ways to make some extra cash on the side online, then it is definitely possible with apps, as I will show you on the list below.
You just need to download the apps with the right expectations and know it will not be a way to make a living.
But if you download several of them, it can be a very easy and nice way to make some passive money without any extra effort.
Who can earn with these apps?
The great thing about the apps you can use to earn passively is that there are options for all.
You do not need any special skills or training to use them, and you can get started right away.
On the list below, I will also include apps for many different countries. So, no matter where you live, you will be able to use at least some of these apps to earn.
All you need is an Android or iOS phone or tablet, and then you can get started. Some of the options will also make it possible for you to earn passively from your computer. Many of the options can even also be used on your computer, and in some cases, you will even boost your passive earnings by installing the apps on several devices.
So, let's now get to the list.
19 best apps to earn TRULY passively
As mentioned, the list below is a list of apps where you can earn without doing anything extra, so they are truly ways to earn passively.
To get the most out of these opportunities, it is best to download and create an account for several of the apps.
I will also be updating this list regularly as I come across new passive income apps, so make sure to bookmark this page and come back and check for new opportunities once in a while.