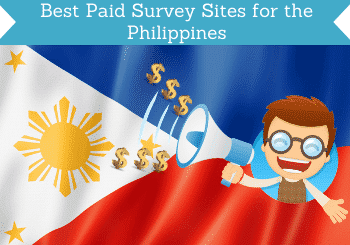 Are you from the Philippines and looking for legit and great paid survey sites to make some extra money online?
Then you have come to the right place.
Below I will show you a list of the 30 best paid online surveys for the Philippines in 2023.
Before getting to the list of the best sites, we will first go over how the opportunities, in general, are in the Philippines and what you have to be aware of to get the most out of the opportunities.
If you are not from the Philippines, you can instead check out my lists of the best sites in other countries.
Disclosure: Some articles on this website contain affiliate/sponsored links. Click for more info.
How are the opportunities for paid surveys in the Philippines?
Taking online surveys can be a great way to make some extra cash or earn free gift cards and have your opinion heard at the same time.
The country you live in plays a big part in the number of opportunities you have. As you might already know, the Philippines is not the country that has the most options in this area.
It does, however, not mean that there are no good options here – it just means you might have to look a little harder to find the good sites that are available in your country (but don't worry, I have done that job for you below).
But when you know where to look and which sites to join, there are actually some really good options, and it is a way to earn some real extra cash on the side in the Philippines.
Whether you are looking for survey apps in the Philippines or prefer taking surveys from your computer, there will be options for you.
The sites and apps I will show below offer several ways to get paid – there are sites that, for example, offer to pay you in cash with or without PayPal, gift cards, prepaid Visa cards, Bitcoin, mobile credits, and more.
So no matter what type of rewards you are looking for, you will find sites on the list below that offers it.
You just need to be aware that taking paid surveys is not a way to make a full-time income or become rich.
It is completely free to participate, you can start earning right away, and you can make some nice extra cash on the side – but you just need to do it with the right expectations.
How to earn the most?
One tip that is important to get success with survey sites in the Philippines is to know that many sites do not only offer surveys as an earning method but also many other ways.
Often sites that have other options to earn than only surveys are also called GPT sites (Get-Paid-To) because there are many different tasks you can get paid for doing.
Remember to use these other options. If a site does not have a lot of surveys available, or if you do not qualify very often, using the other methods can really boost your earnings.
Some of the other ways you can typically earn are by doing micro online tasks, clicking ads, signing up for free online trials, playing games, earning by watching videos, downloading apps, participating in free contests, doing social media tasks, and more.
Some of the options you will find below are even ways to earn a bit extra passively online in the Philippines.
In the list below, I will explain what methods are available on the different sites/apps, and you can also click to see the full review of each site to get more details.
Another way to get the most out of survey sites and GPT sites is to join several sites. The number of opportunities varies from day to day on each site, and new surveys and offers come all the time.
So by joining more, you will have more opportunities.
And do not give up just because a site one day does not have any offers – give it a little time to get to know each site and get to know the opportunities.
Also, as mentioned, there are several of the sites that also have an app so you can easily earn on the go. So if you are looking for legit paying apps in the Philippines, you will also find some great options below. 
Top 30 paid survey sites in the Philippines
The sites on the list below are all legit opportunities to take paid surveys in the Philippines, and they are all free to join and use.
The list is regularly updated, so make sure to bookmark the page and come back and check for new opportunities once in a while. If you have not taken paid surveys before, it is a good idea to join 6-8 sites to get enough opportunities.
If you are experienced, you can join more sites.