Did you know that you can earn from what you search, view, read, listen to, purchase, or like online? There's this app called BIGtoken that promises to pay you for the digital data you share with them.
It sounds like a very convenient and simple way to earn. However, it also sounds a bit risky since the app looks like it is invading your privacy. I understand if you are concerned about this.
But this BIGtoken app review will not only check if this app is legit or not, but it will also examine if this app poses any security threat. After all, your digital data is an extension of who you are (so their website says). So, it's only right that you ensure it doesn't fall into the wrong hands.
This review will also give you an inside look so you can see exactly what the site has to offer so you can decide if it is worth using or not.
What is BIGtoken and what does it offer?
BIGtoken, at its core, is a Get-Paid-To (GPT) app that will pay you for sharing your data with them. And yes, it is indeed a legit app that will pay you for doing so.
BIGtoken is a secure platform that empowers you to realize and claim the value of your digital self (at least that what their website claims) and it gives you the choice of which data to share into the digital world.
This app offers several ways for you to earn rewards. And in order to fully understand how well you can earn from it, let's take a closer look at the earning opportunities it offers.
Option 1 – Data monetization
Every activity available on the app is designed to gather data about you. And as mentioned, you have control of whether or not you want them to sell your data to advertisers.
The way this works is, based on the data you share, you will be placed into anonymized advertising groups. Advertisers will then buy access to these ad groups where you will earn a portion of the revenue from the data sale.
They don't exactly break down the payment for this monetization but it will show up in your account balance once the sale has been made. What's good about this earning opportunity is, it is a form of passive income, so you don't have to do anything special to earn.
But as mentioned they are not clear about how much you will earn for it – but, in my experience, you should not expect to earn a lot.
Option 2 – Check-in feature
When you go to a business establishment like a store, restaurant, etc., you can check-in using the BIGtoken app and earn. It is fairly simple to do. Open the app and go to the check-in feature.
You have to make sure you allow the app to determine your location. Once you've done that, you will be asked to choose the location you are in.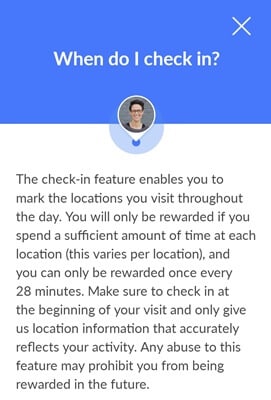 And as explained in the photo above, you will only be rewarded if you spend a sufficient amount of time in the location you are in. The time required will vary depending on the location you are in. For example, if you are in a restaurant, expect you have to stay there for around 30 minutes before you can earn the reward.
You will only be rewarded once every 28 minutes you are in the location. So, if you spent an hour in the restaurant, you can expect to be rewarded twice. But you have to make sure you check-in first. The app will not automatically register that you are in the location.
Option 3 – Connecting social accounts
You can also connect your social media accounts to the BIGtoken app to earn additional rewards.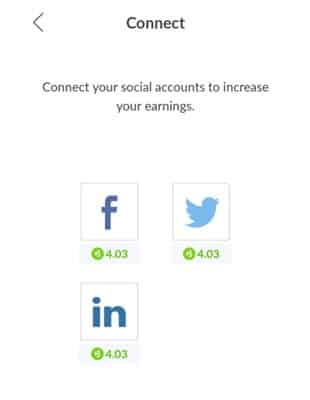 Bear in mind though that this opportunity is a one-time thing only. So, don't expect to earn from it multiple times. Once you've connected your account, you won't be able to earn the reward from it again.
Option 4 – Daily action bonus
Once a day, you will be able to claim a bonus reward. This is called their daily action bonus. To receive this bonus, you just have to log in and complete an action daily to unlock it.
An action is any activity you do on the app. Sometimes, it just requires you to log in to the app, and sometimes, you have to complete other steps.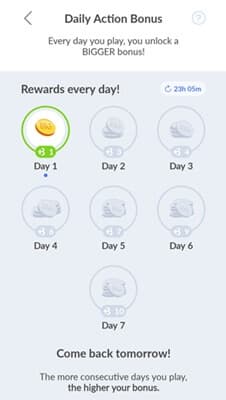 As you can see in the photo above, the more consecutive days you claim the bonus, the higher rewards you will get. Once you unlock the daily action bonus, simply tap it to claim the rewards. It's that simple.
Now, if you miss a day, you will lose your streak and you will have to start again. So, if you plan to use this app, make it a habit to log in to the app every day and complete an action.
Option 5 – Surveys
From time to time, you can also answer surveys to earn rewards. The surveys available on BIGtoken are slightly different from what you would normally encounter on survey sites.
This is because you won't have to go through the qualification process like you normally would with survey sites.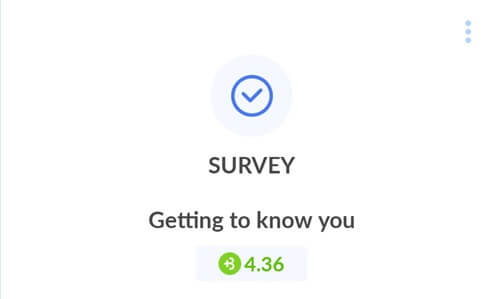 This means you are automatically qualified for every survey that will be available for you. All you have to do is finish answering it. And as you can see in the photo above, you will immediately see the reward you will get for answering it.
Another good thing about their surveys is, they don't usually take long to answer. So, it won't eat up a lot of your time. However, don't expect to receive a lot of these surveys though since BIGtoken isn't really a survey app.
Option 6 – Sponsored actions
Sponsored actions are a lot like the offerwalls you will encounter on GPT sites. In fact, it is basically the same. BIGtoken just calls it sponsored actions.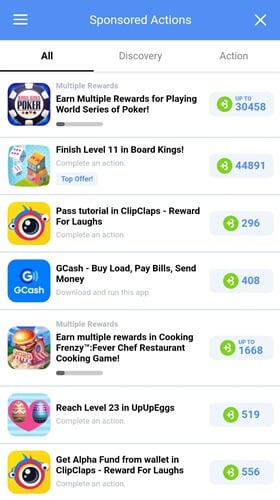 If you are not familiar with offerwalls, they are in-site/app advertising platforms that will advertise apps and websites through offers. In the photo above, you can see that you will be able to earn 44,891 points by playing Board Kings and reaching level 11 in the game.
Most of the offers found in their sponsored actions will typically involve you having to install a certain mobile app. Sometimes, it will ask you to answer surveys and quizzes. But regardless of what it will ask you to do, there will always be a condition you need to meet to earn the reward.
So, if you do any sponsored actions, make sure to take note of the condition required to receive the reward.
Option 7 – Stream
BIGtoken also has a referral program you can participate in. They call it Stream. To earn from your Stream, you have to invite other people to join the app.
You can share your invite code or link with the person you want to invite and once they sign up to the app, they will become your referral.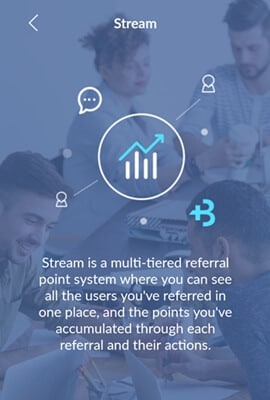 They don't exactly break down the reward system for their stream/referral program. But the idea behind this is, you will earn points for every action your referral completes on the app.
So, if you want to earn from your stream, make sure the people you invite are those that are really interested in earning from this app.
Your stream will also play a huge factor in the next earning opportunity I will discuss.
Option 8 – Teams
Lastly, you can also earn rewards by creating your team or joining one. Here's a short video explaining how this opportunity works.
If you want to create a BIGtoken team, you have to add at least three friends. You can then choose to set the team to public or private. If you are going to set it to public, other BIGtoken members will be able to join it.
If you want to set it to private, only you and your friends can join the team. You will then be able to add friends from your stream. So, here's where their referral program comes into play.
If you want to form your own private team, you have to invite people to join the app. Otherwise, you will have to wait until another member of the app wants to join your team (which can take quite a while).
Once you have at least three people in your team, you can start completing one team action per day which will earn you bonus points. Every team action will have a countdown timer.
If each team member completes the action before the timer runs out, every member of the team will receive the bonus points. If even one member doesn't finish the action, then no one gets the bonus points.
So, this opportunity will require communication, dedication, and teamwork. It's a nice and fun way to earn bonus rewards, but you have to commit to it.
If you are not prepared to do that, then I suggest you don't join a team because you will only drag a team down.
How do you get paid?
Every action you complete on this app will earn you points which will be stored in your BIGtoken balance. You will then see the equivalent amount in US dollars. You can redeem your points for cash or donate them to charity.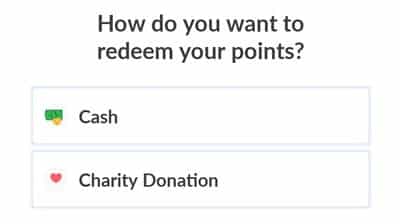 If you choose to redeem cash, the payment will be done via PayPal. If you choose to donate to charity, there are several charities associated with BIGtoken. You can then select from those charities.
The one big thing you need to remember about their payment system is, you will only be able to redeem your earnings at the end of the BIG Season. Every BIG Season will last 90 days. So effectively, you will have to wait 90 days to redeem your rewards.
Plus, the app says you have to earn at least $10 to withdraw your earnings, but this amount will actually vary from country to country. The maximum amount you can withdraw per season will be $200. Any earnings left after the withdrawal will carry over to the next season.
If you were not able to reach their threshold within the season, the points you've earned will carry over to the next season as well.
As for the redemption process, you have to submit your payment request before the deadline. The deadline for payment requests will be shown in the rewards section. If you miss the deadline, you will have to wait until the next season to redeem your earnings.
Their payment system is a bit complicated and does take quite some time to be processed. So, you will have to be very patient with it. If you prefer a faster-paying site or app, I suggest you check out the fastest paying sites instead.
How much money can you make?
With this type of app, the money you can earn will mostly depend on the availability of earning opportunities and how well each earning opportunity pays.
Seeing as the app offers plenty of ways to earn, then the main factor that will affect how much you can earn is how well they pay.
Most of the earning opportunities they offer don't really pay that well. There are a few sponsored actions that are worth a lot of points but mostly, the rewards you will earn will only range from 10 to 500 points.
It's also hard to gauge how much that is worth because their conversion rate is a bit confusing. Let me show you an example.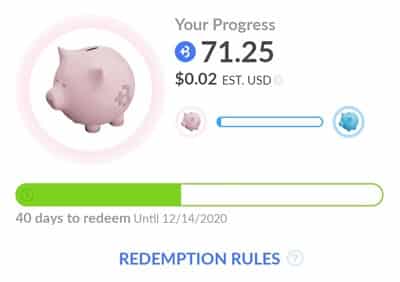 In the photo above, you can clearly see that 71.25 points is only equivalent to $0.02. That means if you earn 7,125 points, that will only be worth $2. So, it's pretty hard to figure out how much each point is worth.
But you will be able to clearly see that you will need to earn a lot of points to earn a significant amount.
That's why I would say this app has a low earning potential. You will need to invest a lot of time to earn a decent amount.
Can you use it on a desktop?
As of the writing of this review, the web-version of BIGtoken is undergoing an overhaul. That means you will only be able to use BIGtoken on your mobile device through their mobile app.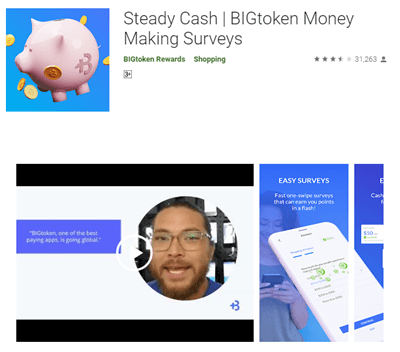 The good news is, their app is available on both Android and iOS devices. So, you shouldn't have any compatibility issues, unless of course if you are using a Windows phone.
Their app is also very user-friendly, so you won't have a hard time getting used to how it works. Their user interface is very intuitive.
Who can join BIGtoken?
The app is available globally. This means you can register as a member regardless of where you live. To sign up, you have to download the app and install it on your mobile device.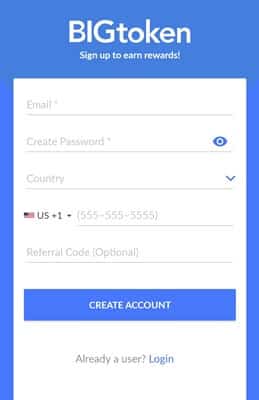 Once it is installed, you will have to fill out their registration form. Then, you will have to verify your registration twice. The first time is by clicking on the confirmation link in the email that will be sent to you.
The second time is when you log in to the app for the first time. You will have to enter a verification code that will be sent to you via SMS. So essentially, if you want to be a member of this app, you have to be willing to share your mobile number with them.
Once you are logged in to the app, you will have to answer a profile survey. You will earn 50 points once it is completed.
Can you get support?
If you have any questions about the app or how it works, you can first check their FAQ page. It covers most of the basic topics you need to know about the site. It also does a good job in explaining these topics, which is commendable on their part.
But if you can't find the answers you are looking for, you can send your inquiry to their support team using the contact form provided on their website. You can also go to the support section of their app to submit your question or read their FAQs.
However, I have seen plenty of complaints about how the app provides support for its members. Most complaints are about their support team not responding to inquiries. So, you might need some patience if you ever need to contact their support system.
Overall, I would say they have a decent support system in place for their members since they provide a way for you to contact their support team. It just seems like they really need to work on getting back to their members, in my opinion.
Final Verdict
BIGtoken is a GPT app that will pay you for completing actions and sharing your data with them. It has several interesting features but it also has drawbacks you need to keep in mind.
So, let's finish this review with a summary of its pros and cons to give you an overview of what the app has to offer so you can decide if you should use it or not.

Pros:
Available globally
Payment via PayPal is available
Offers several ways for you to earn rewards
User-friendly

Cons:
Low rewards
Takes quite a long time to receive your earnings
The payment system is a bit complicated compared to other GPT apps
BIGtoken offers a couple of interesting earning opportunities. However, you will really have to invest a lot of time using this app if you want to earn a decent amount.
This is because their earning opportunities offer low rewards. You will literally have to earn thousands of points just to earn $1 and to do that, you will have to complete a lot of actions. So, if you want to earn efficiently, this isn't the best app to do that.
Their payment system, although it offers a convenient payment method (PayPal), is also slightly more complicated than most other GPT apps. Plus, you will basically have to wait 90 days (or more) to receive your earnings.
In my opinion, there are simply far better options if you are just looking to earn extra cash. For a list of these options, I would recommend you check out the top survey and GPT sites in your country instead.
The sites on this list all have good earning potential and will allow you to earn efficiently. Plus, you will also be able to find a site you can join regardless of where you live.
If you have any comments, questions, or have any experiences with the BIGtoken app yourself, I would love to hear from you in a comment below.