One of the easiest ways to earn extra cash is to use a Get-Paid-To (GPT) app.
The reason why for this is that GPT apps will usually allow you to earn on the go. That means you don't have to sit in front of a computer to earn. This is, however, only true if the GPT app you use is really worth it.
In this article, we'll talk about a GPT app called CashApp which claims you can earn money by completing simple offers. And the big question is, is this app worth it or not?
I have decided to put it to the test to figure out if it really does what it says it says it does and if you should really use it. I will share all my experiences using this app in this CashApp app review so you will get a real inside look and know exactly what the app has to offer.
Then, you will be able to decide if this is really an app truly worth using or not. So, let's go ahead and take a closer look at CashApp, shall we?
What is CashApp and what does it offer?
CashApp, as mentioned above, is a GPT app that will allow you to earn by completing offers. It is indeed a legit app since you will really get paid to do small tasks. But that's not the real indication of whether it is really worth using or not.
To find out if it is worth your time, you must first understand how it works, and to do that, we have to examine the earning opportunities it offers. So, here's how to earn from this app.
Option 1 – Offerwalls
The primary way of earning rewards from this app is to work on their offerwalls. This kind of earning opportunity is very common in GPT sites and apps, but in case you're not familiar with this opportunity, an offerwall is an in-site/app advertising platform that is designed to promote websites and other mobile apps through paid offers.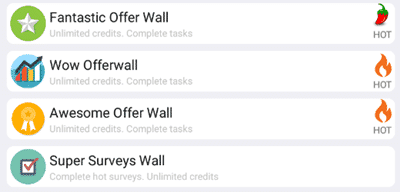 Also, the paid offers are the actual small tasks you can do to earn rewards. Typically, these offers will ask you to either play a mobile game, register to a website, answer a survey or quiz, and more.
The one thing I noticed with their offerwalls is, each offerwall does have a decent number of offers available. However, the number of actual offerwalls you can work on is really very low. During my testing, I only saw three offerwalls.
The reason why I say this is a very low number is, based on my experience from working on popular GPT sites and apps, the number of offerwalls you can usually find will range from 10 to 20 offerwalls. That is why I would say CashApp really just pales in comparison to other GPT sites and apps.
But as I've mentioned earlier, each offerwall has a decent number of offers available, so you will still have plenty of things to do to earn. I do have to warn you though that the offers that pay more will actually take a bit of time to complete.
On one of their offerwalls, they label each offer according to the difficulty, so you can easily pick which offers to prioritize if you are in a hurry. The one thing you need to remember when working on an offer is to take note of all the requirements you need to meet to complete the offer.
That is why you have to read the instructions carefully before you start working. Make it a habit to understand what each offer is asking you to do before you actually start working on it because if you miss even one requirement, you won't be able to complete the offer and you'll have to backtrack and figure out what you missed which will take even more time.
Once you complete an offer, you will receive a certain number of credits which will be stored in your account balance. Later on, I will discuss what you can do with the credits you've earned.
Option 2 – Watching videos
Another way to earn from CashApp is by watching video ads. This opportunity is very simple, but I do have to warn you that it doesn't really pay well. It's not surprising because watching videos is really the least profitable earning opportunity you can find on any GPT site or app and this is based on experience.

When you log in to the app, you will see a section similar to the photo above. All you have to do is press it and it will load a video ad. You have to finish watching the ad because that will be the only way for you to earn the reward.
After the ad has finished, you have to wait for a few seconds before the close button will appear. When it appears, it is safe to close the ad and you will see a notification that you've earned 2 credits. Yes, that's how small the reward you will earn for watching a video ad.
You can press the "Watch Videos" option again if you want to watch another video. It will keep loading video ads as long as there are still video ads you haven't watched.
As you can see, it's not the most efficient way of earning because each video ad will usually last around 10 to 30 seconds and all you get is 2 credits. That is why I would only recommend you do this if you have nothing else to do in the app.
Option 3 – Bonus tasks
Bonus tasks are short tasks you can do to earn rewards. This includes claiming the daily login bonus as well as sharing the app on Facebook. You can also earn more credits by completing your profile.

Apart from the daily login bonus which you can claim once per day, the other bonus tasks are a one-time deal. As the name suggests, you just have to think of it as bonus tasks where you can claim bonus rewards.
Option 4 – Referral program
Lastly, you can earn more credits through CashApp's referral program. In case you are not familiar with a referral program, it is an earning opportunity where you will have to invite people to use the app in order to earn.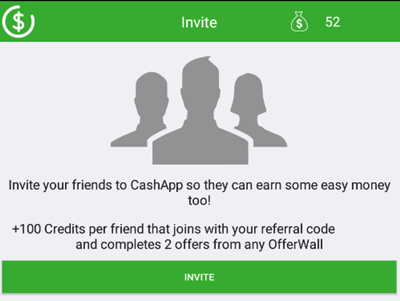 All you have to do is share your referral code with the person you want to invite. Then, remind them to input the code after they've installed the app. Once they input the code, they will now become your referral.
However, as shown in the photo above, in order for you to earn the referral reward, which is 100 credits, your referral must complete two paid offers from any of their offerwalls. Take note, they have to pick an offerwall and complete two offers.
That is why you need to make sure the people you invite are really interested in earning from this app because you won't really get anything if they don't become active members of the app.
Recommended: Check Out the Top GPT Sites
How do you get paid?
As explained above, you will earn credits every time you complete an earning opportunity. The credits will show up in your account balance. The question is, what can you do with the credits you've earned?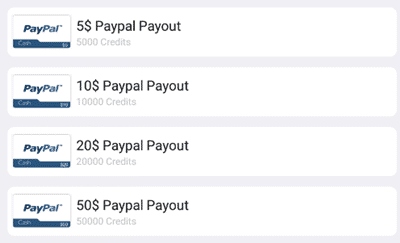 Well, CashApp only offers one reward option and that is PayPal. You can exchange your credits for cash and withdraw them via PayPal once you've earned at least 5,000 credits. That's the threshold you need to reach to request a PayPal withdrawal.
5,000 credits might sound like a lot but it is only $5. So, the threshold of CashApp is actually relatively low, but that doesn't actually mean you can withdraw your earnings quickly (I will discuss why in the next section).
Now, if you are interested in actual sites that will allow you to withdraw your earnings quickly, I would recommend you check out the fastest paying sites instead.
How much money can you make?
CashApp has a decent number of earning opportunities available at any given time, so the amount you can earn will mostly depend on how much time you invest in it and how well the app pays. You can control the time you are willing to spend on CashApp, but unfortunately, you don't have control over how well it pays.
And based on what I observed during my testing, the app doesn't offer great rewards. The time-to-money ratio is actually quite low. Yes, there are offers where you can earn thousands of credits but they actually take some time to complete.
The shorter tasks that can be completed in a few minutes will only reward you around 50 to 100 credits. So, it will take some time before you can actually reach their payout threshold. This makes their low payout threshold really irrelevant, in my opinion, because you will still need to wait sometime before you can actually withdraw your earnings.
Hence, I would say the earning potential of CashApp is quite low. There are plenty of other GPT sites and apps that offer better earning potential.
Can you use it with a desktop?
CashApp is a mobile-only platform. So, you will really need to use a mobile device to earn. The thing with CashApp is, there's actually a similar app that uses the same name. When you search for CashApp in the app store, you will have to make sure you download the right app, so make sure to refer to the photo below when downloading the app.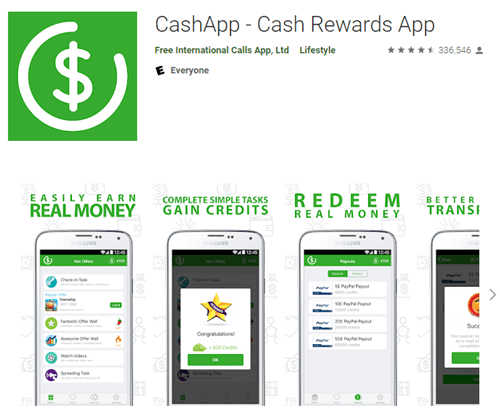 Make sure you download the app shown in the photo above because that is the right app. As for where you can download it if you check their website, it contains a download link to the Android and iOS app stores.
But, when I checked the iOS link, it doesn't work anymore. That is why I would say the app is only available for Android devices because that is the only download link working and if you actually search for the app on the iOS app store, you won't find it.
The app is relatively easy to use though, so you won't have a hard time getting used to how it works.
Who can join CashApp?
CashApp doesn't tell you exactly which countries it is available in. But as far as I can tell, it is available globally, so you should be able to download and use it from most countries.
The thing with CashApp though is, it doesn't really require you to register. You just have to install it on your mobile device and you can immediately log in.
That means your account is non-transferable. I personally don't like this kind of system because you can't really use multiple devices. Plus, it's also a bit fragile because if you somehow wind up uninstalling the app from your device, you will end up losing all your earnings.
Can you get support?
The app has a support section where you can find some of the basic questions being addressed. So, if you have any questions about the app, you can refer to that page first. But if you have questions about a specific offerwall or you encountered issues when using an offerwall, you have to use the support option found in the offerwall because they have their own support department.
But if your issue is with CashApp, you can get in touch with their support team by emailing them at support@cashapp.io. That's how you can get a hold of their support team.
Overall, I would say the app has a decent support system in place for its user since they offer an easy way for you to communicate with their support team.
Final Verdict
CashApp is a legit GPT app that will allow you to earn rewards by working on simple tasks. It has a couple of good features to offer, but it also has some limitations you need to consider.
Let me finish this review by summarizing its pros and cons so you can get an overview of what it has to offer. Then, you can decide if you should use it or not.

Pros:
Has a decent number of offers
Offers payment via PayPal
Available globally

Cons:
Low rewards
You can only use it on one device
In my opinion, CashApp isn't a bad GPT app. But, it's not that good either. It doesn't offer any good reason for you to use it mainly because of the low rewards it offers. Sure, you can find offers that pay a decent amount, but it will take a lot of time to complete.
But I do like the fact that they offer payment via PayPal because it is one of the most convenient payment options around. Overall, I would only recommend you use this app if you really need an additional app to earn from.
Now, if you are looking for primary ways to earn extra cash, I would instead suggest you check out the top survey and GPT sites in your country. The sites on this list all have good earning potential, so you won't have to wait a long time before you can earn a decent amount.
If you have any comments, questions, or have any experiences with CashApp yourself, I would love to hear from you in a comment below.