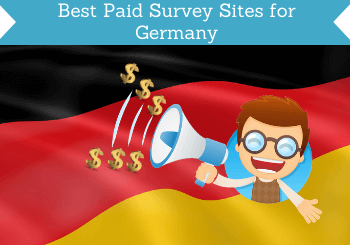 Do you live in Germany and want to make some extra money online?
Then paid surveys and Get-Paid-To sites can be a great and easy way to do this.
The country you live in plays a big part in the number of opportunities you will get. In this article, I will focus on the opportunities for Germans and reveal the best paid survey sites in Germany.
If you are not from Germany and want to know how the opportunities are in your country, you can check out the list of survey sites in other countries.
Disclosure: Some articles on this website contain affiliate/sponsored links. Click for more info.
How good are the opportunities to earn on paid surveys in Germany?
Before getting to the best survey panels in Germany, let's first talk a bit about how the opportunities are in Germany to make money online like this.
In general, the opportunities on survey sites and GPT sites (Get-Paid-To) vary a lot from country to country. The biggest countries, in most cases, have the most opportunities. Many smaller countries do, however, also have pretty good opportunities.
The reason the bigger countries often have more opportunities is that there are more people and, therefore, a bigger market that is interesting for companies to pay to get information about – this is what market research is all about.
Getting paid from surveys is only possible because companies are interested in hearing consumers' opinions and using this to improve their services and products.
If you live in Germany and want to make some extra money online by giving your opinion, you are lucky. It is one of the countries that have very good opportunities. Most sites will even offer surveys in German, so it will be easier for you to do them.
Even though there are many opportunities, it is, however, important to choose the right sites to join. Not all sites are worth the time. Some even try to scam you and try to get you to pay to join. But if you join the legit sites that are worth the time, it can be a great way to make some extra money on the side.
How to earn the most?
Be aware that many of the sites I will show you below also give you other ways to earn than just taking surveys. In Germany, you will find many sites where you can earn money by, for example, taking offers, downloading apps, watching videos, participating in free contests, doing social media tasks, and more.
These sites are usually called GPT (Get-Paid-To) sites as they give several ways to earn.
Paid surveys and GPT sites are a great way to make some extra money online in Germany, and you can start earning right away.
But you need to know that no matter how many sites you join, it is not a way to make a full-time income online. I always make sure to mention this, as paid surveys and GPT sites are a great opportunity, but it is not the way to go if you are looking to become rich online because then you will be disappointed.
The sites on the list below are all free to join and to use. To increase your chances of earning, it is a good idea to sign up for several sites. They all have different offers and opportunities, and in combination, it can give you a good amount of opportunities to earn by joining several sites.
In general, I recommend you join 5-7 sites if you have never done paid surveys or used GPT sites before not to get overwhelmed.
After a while, when you have more experience and know-how to get the most out of the different survey panels and GPT sites, you can then join more (so make sure to bookmark this page so you can come back to the list – it is also regularly updated).
So let's go into which sites are the best to join in Germany!
Top 25 paid survey sites for Germany
The below list is not a complete list of all the survey and GPT sites available in Germany. It is instead a list of the best sites, and they are all legit and 100% free, so there is no risk in joining them.
Remember that many of the sites offer other ways to earn than only paid surveys. You can see which earning methods each of them offers in the overview below.