Answering surveys, signing up for trials and offers are just some of the things InstantRewards.me offers to earn extra cash. So, if you've been looking for a site to earn extra cash, you might be considering joining this.
However, before you go ahead and pull the trigger, it is best if we take a closer look at the site first so we can determine if it is worth joining or not. Now, the first thing we need to verify is if InstantRewards.me is legit.
Fortunately, InstantRewards.me is a legit Get-Paid-To (GPT) site that will pay you for participating in the activities they offer. But this doesn't really tell you if the site is worth joining or not. To figure this out, we have to look at a few things.
This InstantRewards.me review will give you the lowdown on what the site has to offer so you can properly decide if you should sign up or not.
What is InstantRewards.me and what does it offer?
As explained above, InstantRewards.me is a GPT site that will pay you for completing offers and other activities.
It's a relatively new GPT site and it has hundreds of members. It promises instant payments but we'll see later if it lives up to its promise.
For now, we need to take a look at the earning opportunities it offers to understand the earning potential of the site. So, here's how you can earn from InstantRewards.me.
Option 1 – Paid surveys
One way you can earn rewards from this site is by answering surveys. Take note though that the surveys you will have to answer will come from other survey providers. So, they don't actually provide their own surveys.
Why does this matter though? Well, it has to do with the rewards you will get. The way this site works is, it will redirect you to survey providers for the surveys you need to answer to earn rewards. This is how the site earns money.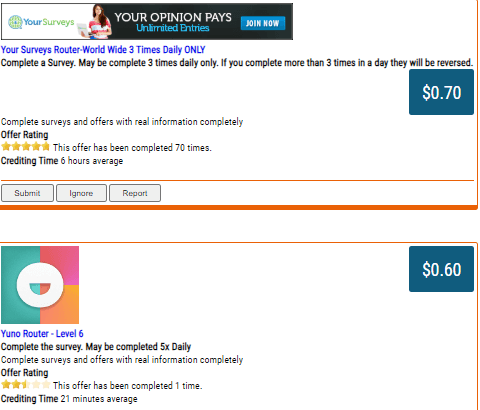 For every survey you complete, InstantRewards.me will keep a percentage of the reward. Nothing wrong with that. But in this case, the reward you get will just often be lower than if you take the surveys through many other sites.
When you see a survey offer, all you have to do is click it and it will take you to the site that hosts the survey. Just answer all the questions honestly. You will have to go through a set of qualification questions to determine if you belong to the demographic the survey is intended for.
If you qualify, you get to answer the actual survey. If you don't, then you just have to move on to the next survey.
It can take a bit of patience to find the surveys you qualify for on Instant Rewards though, but at least it has quite a lot of options.
Also, do not rush through the surveys because you will be banned from answering surveys for 35 days if you do.
Option 2 – Watch videos
You can also earn additional rewards by simply watching videos.
In InstantRewards.me's case, the videos you have to watch will be from HideoutTV, a popular Get-Paid-To-Watch site. All you have to do is watch the videos it shows you and you will receive your reward once you are finished watching a video.
Keep in mind though that the rewards you will earn from this opportunity will be quite small. So, don't expect to earn a lot from it.
In my opinion, it is best to do this if you run out of surveys to answer and paid offers to complete (I will discuss this next).
That's because it's not really the most efficient way of earning rewards on this site.
Sure, it's very easy to do and requires little effort. But it takes quite some time to finish and you will only earn a small amount. If you want the most value out of your time, it's better to answer surveys or complete offers.
Option 3 – Paid offers
Speaking of offers, the best way, in my opinion, for you to earn rewards on this site is by completing paid offers. But again, just like the paid surveys, the offers you will find on this site will come from other providers, namely offerwalls.
The good thing is, they have plenty of offerwalls you can choose from, so you really won't run out of things to do to earn rewards. Some of them are very popular like Wannads, Offer Toro, Ayet-Studios and a lot more.

To earn, just choose any offerwall you want to work on. You will then find a bunch of paid offers you can do. Most of the paid offers will ask you to answer surveys or play games. Some will ask you to sign up for a site, while others will ask you to answer quizzes or download mobile apps.
Every offerwall has its own unique offers you can complete. The main thing you need to remember is, each offer will have a set of instructions you need to follow to complete the offer. It is important you don't miss a step because if you do, you will not be able to complete the offer and earn the reward.
So, read the instructions carefully and make sure you understand them before you start working on the offer. Once you've completed an offer, the reward will be credited to your InstantRewards.me account balance.
But just be aware that the exact same offerwalls are also offered on many other GPT sites and, in my experience, you can often get higher rewards on other GPT sites for the same offers.
Option 4 – Referral program
Lastly, you will be able to earn bonus rewards for inviting other people to join the site.
This is a very common opportunity found on most online rewards sites. To earn from their referral program, you will have to invite people to join using your invite link.
Once they sign up to the site using your invite link, they will become your referral. You can earn up to 25% of your referral's earnings.
How do you get paid?
Most of the offers you can complete on the site will pay you in actual money. But some of the paid offers will reward you with points.
Fortunately, you can convert the points you've earned to cash with a conversion rate of 1 point = 0.01 cash.

Now, once you've reached the threshold, you can withdraw your earnings. The site gives you several options.
You can either withdraw your earnings via PayPal, convert it to Bitcoin, transfer to your bank account via TransferWise, or get paid in cash via Skrill.
The payout threshold will depend on your chosen reward.
For PayPal and Skrill, you will only need to earn $1 to request payment. For Coinbase, you will need to earn $10 and for TransferWise you need $28.
Now, it promises to pay you instantly. Based on feedback from other members as well, the site does it best to hold to that promise, which is good because it will allow you to receive your money quickly.
I do like the fact that the site has a low payout threshold for some rewards. This makes it easier for you to receive payment.
If you are interested in more sites that have a low threshold, I recommend you check out the fastest paying sites.
How much money can you make?
What's good about a GPT site is, as you can see, you will never run out of ways to earn rewards.
However, to gauge the earning potential of InstantRewards.me, we have to take a look at how much you can make from it.
Most of the surveys found on the site will only net you around $0.5 to $1 at most. But from time to time, you find offers that will reward with more. As for their paid offers, you will usually earn around the same amount. But usually, the offers you will find will be around $0.5 or less.
It's not really that great and it is lower than what you can earn on many other similar sites, in my experience.
That's why I would say that this site doesn't have a very good earning potential. It's right around the middle, which is why, in my opinion, this site should not be your first choice if you are looking for ways to earn extra cash online.
Can you use it on mobile?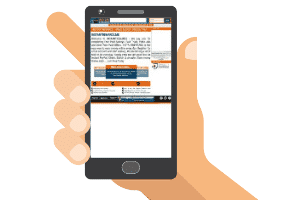 The site doesn't have a mobile app. So, if you want to work from a mobile device, you will have to use a mobile web browser.
The problem is, their site is not fully optimized for mobile use. You will have to zoom it to read all the content properly and click on the links to get around the site.
Plus, their site is a bit spammy. Pop-up ads will appear from time to time when clicking on links. The user experience is bad enough on a desktop/laptop.
And if you use it on a mobile device, it is quite annoying and inconvenient in the long run.
That's why I would recommend you only use it on a desktop or laptop if you want to work on it conveniently – but even here the user experience is quite poor, in my opinion.
Who can join InstantRewards.me?
The site is available globally. That means you will be able to sign up as a member regardless of where you live.
The site doesn't tell you the age requirement, but in my experience, you usually have to be at least 18 to join a site like this, especially since they use PayPal as their payment option and 18 is the age requirement to have a PayPal account.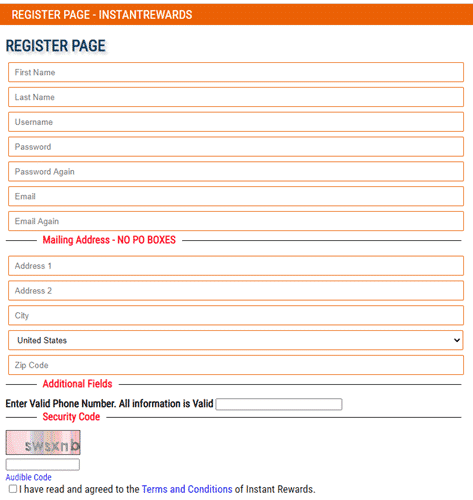 To sign up as a member, you just have to fill out their registration form. It will ask you to provide a mailing address and a phone number even before you join. So if you are not comfortable with this, this site is not for you.
However, even though the site is available globally, it is important to note that not all opportunities are available in all countries. Some countries will have more offers than others. So keep that in mind before registering.
Can you get support?
In my opinion, the site does a bad job at being transparent with what it has to offer.
Apart from the basic introduction on what the site offers, there really isn't a page that explains the earning opportunities or how the site works in general.
Their FAQ page doesn't even discuss most of the important topics. And to top it off, if you have any questions about their site or your account, you don't have any way to contact their support team.
They don't have a contact form or an email address you can send your inquiries to.
They have Facebook and Twitter pages but these pages haven't been active for quite some time. So, I would say, they could use an improvement in the way they handle their support.
Final Verdict
InstantRewards.me is a GPT site that will pay you for participating in the activities they offer. It has a couple of good features but it also has a few drawbacks.
Now, let me finish this review with a summary of its pros and cons so you can get a better overview of what the site has to offer. That way, you can better decide if you should join this site or not.

Pros:
Low payout threshold
Offers payment via PayPal
Has plenty of offers available

Cons:
Relatively low rewards
The site is a bit spammy and has poor usuability
Doesn't provide a way for you to get in touch with their support team
What I like about this site is that it has a low payout threshold. It makes it easier for you to request a payout. Plus, it offers one of the most convenient payment methods around (PayPal).
The rewards you will earn aren't that high though. However, the usability of the site with the random pop-up ads when you click links is really annoying. And in addition to this, they do not offer a way for you to get in contact with their support.
For these reasons, it is not really a site I can recommend as there just are a lot better options out there, in my opinion.
If you are looking for better ways to earn, I suggest you check out the top survey and GPT sites in your country instead. The sites on this list all have good earning potential and they offer good support for their members.
Plus, you will also be able to find a site you can join regardless of where you live.
If you have any comments, questions, or have any experiences with InstantRewards.me yourself, I would love to hear from you in a comment below.