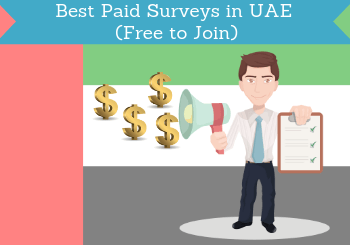 Are you looking to earn some extra cash online in the United Arab Emirates by sharing your opinion and doing other online micro jobs?
Then paid survey sites and Get-Paid-To sites (GPT) might be the right solution for you.
There are many sites that offer this, BUT there are also many sites that are just a waste of time.
In this article, I will, therefore, show you the 25 best paid surveys in UAE that actually pay and are worth your time.
If you are not from the UAE, you can instead check out the lists of other countries here.
Disclosure: Some articles on this website contain affiliate/sponsored links. Click for more info.
How are the opportunities for online paid surveys in UAE?
The opportunities to earn by taking online surveys depend a lot on the country you live in.
In the UAE, you have decent opportunities to earn some extra cash like this.
It is not the country with the most opportunities compared to certain bigger English-speaking countries. But if you join the best sites (see list below), you have pretty good options here.
And there are opportunities for you no matter whether you live in Abu Dhabi, Ajman, Dubai, Fujairah, Ras Al Khaimah, Sharjah, or Umm Al Quwain. 
So it is definitely a legit and real way to make some extra cash by sharing your opinion in UAE. You just need to do it with the right expectations.
It is not a job that will make you rich or a full-time income. But it can definitely be a way to earn some nice extra cash on the side and have your opinion heard at the same time.
Below, I will also show you how you can increase your chances of earning by using the sites on the list below.
Tips to earn more
One thing people often overlook when it comes to paid survey sites is that many of them have extra earning opportunities.
The sites that offer more ways to earn than paid surveys are usually called GPT sites (Get-Paid-To). This means you can still take surveys and get paid for this on these sites.
In addition to this, they offer other ways to earn like taking paid offers, doing micro-tasks online, watching videos, clicking ads, participating in contests, playing games, downloading apps, and more.
By using some of these other options some of the sites offer, you can really boost your earnings.
Another way to increase your chances of earning is by joining more sites. I would recommend you to join 5-7 sites for a start.
This will give you plenty of chances to earn as the sites offer different opportunities. At the same time, it will not be too overwhelming.
So this is a good number of sites to start with, and then you can always join more later once you have learned how to use the first sites.
The list below will regularly be updated, so make sure to bookmark this page and come back and check for new opportunities once in a while.
25 best UAE survey sites
Below you will find a list of the best paid survey and GPT sites in the United Arab Emirates.
This is not a complete list of all the sites that are available, as many sites are just not worth the time. This is instead a list of the best sites focused on only listing legit sites that actually pay and give real opportunities.
In the overview, you can see what kind of payout methods and earning opportunities each site offers so you can easily find the right sites for you.