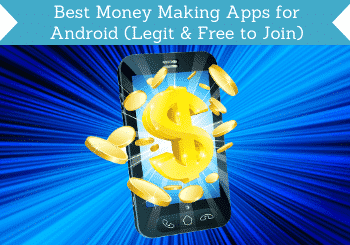 Android has been the number one mobile device operating system for years now. So, it goes without saying that if you want to earn extra cash online using your mobile device, your best bet is by using an Android device.
The question is, which apps should you use? There are literally hundreds of apps you can download that claim you can earn by using their app. So, it's kind of impractical to go in blind and just start downloading every app you can immediately find as many of them are a waste of time.
That's why I've decided to list down the best money making apps for Android you can download. That way, all you have to do is choose which ones you are more interested in and download them. I'll include a brief summary of what these apps have to offer so you can get a good idea of what each app is all about and find the best ones for YOU.
All the apps I will be listing down are legit and free to join. You just have to sign up and you can start earning right away.
Disclosure: Some articles on this website contain affiliate/sponsored links. Click for more info.
How are the opportunities to earn offered by Android apps?
As mentioned above, there are hundreds of Android apps that pay. Some of them offer good opportunities while a lot of apps don't. But to answer the question above, I would say it's pretty good.
Of course this will only apply to apps that really have good earning potential and these are the ones I will show you below.
On this list, I will be including survey apps as well as Get-Paid-To (GPT) apps so you will have plenty of options. Survey apps are apps that will allow you earn by simply answering the surveys they offer.
GPT apps, on the other hand, offer various earning opportunities. You can earn by completing short tasks, answering puzzles and quizzes, playing games, downloading other mobile apps, watching videos, and a lot more.
In the next section, I will explain how you will be able to maximize your earnings from these apps.
How to earn the most?
With survey apps, maximizing your earnings is pretty straightforward. You just have to complete your profile and make sure you provide honest answers. That's really the best thing you can do.
But as for GPT apps, since these apps offer several different ways to earn, your best bet is take advantage of all the earning opportunities they offer. The best strategy is to prioritize the opportunities that pay more. Then, you can work on the other opportunities if you still have enough time.
The thing to remember with Android apps that pay is that they offer different earning opportunities. So, you can't really say you will be able to earn a specific amount in a certain time period. So, if you want to maximize your earnings, what I would recommend is, you join around 5 to 7 apps.
This strategy will give you access to more earning opportunities and in turn, earn more. Just keep in mind that the amount you will earn from all these apps will not compare to what you can earn from a full-time job. That being said, can still earn a decent amount of extra cash if you put in a bit of time and effort.
13 best money making Android apps
The apps I will include in this list are the best Android apps to make money online that I think are truly worth your time. All these apps have good earning potential and offer convenient payment methods. They are also relatively easy to use, so you won't have a hard time learning how these apps work.
I will keep updating this list so make sure to bookmark this page and check back from time to time for new opportunities.