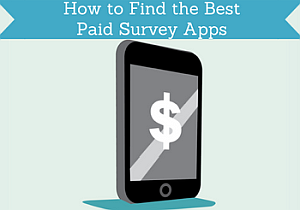 Doing paid surveys can definitely be worth it, and is a great way to make some extra money. Even though most surveys do not take very long, it can however sometimes be difficult to find the time to do them in our otherwise busy lives.
That is why it can be handy to be able to do surveys on the go. The easiest way to do this is to use paid survey apps, as it is a fast and easy way to get access to the surveys, whenever it fits into your schedule. Below, I will show you some of the best apps I have found, but let's first look into some of the advantages of using them, and how you can get the most out of it.
Why use an app for doing surveys?
If you would like to make some extra money by doing paid surveys, an app is an easy way to fit it into your schedule. Today, most of us have our phone with us most of the time, and with access to surveys through the phone, we can do the surveys in little breaks, if we do not have much else time to allocate for doing surveys.
Personally, I like doing surveys, if I am waiting somewhere, and have a bit of extra time. Often we use our phones at those times anyway to for example check social media. Now I just try to check my Facebook on the phone a little less, and spend some of the time making a bit of extra money doing surveys:-) For example if I am waiting at the dentist office, waiting for public transportation somewhere, or waiting for a friend to show up somewhere.
I also do take the time to sit down and do surveys on my computer, but if that does not fit into your schedule, having access to the surveys on your phone can be a great way to find the time.
How to select reliable apps?
Whether you have an Android, IPhone or another device, you can go the app store and search for paid surveys. This is however not a very good way to find reliable survey apps. If you do a search like this, there will be hundreds of suggestions for apps you can download, and many of them are not very good, and you can end up wasting a lot of time on them.
I have tested several random survey apps by just selecting them on the list, but have not been impressed by the results. That is why I select differently now. I prefer using apps from survey companies that also have websites and have a lot of credibility through having good options and good service there. That does not mean that a survey app cannot be good just because the company behind does not also have a reliable survey website, and I will also continuously test some of these other apps and update the list below accordingly.
But I have found that in general, the best survey apps come from the reliable survey site companies. Also, when installing something on my phone, I want to take precautions and not download just any random app, and there are better chances of it being a secure app, when there is a reliable company behind.
This is how I choose what survey apps to use, but I am actually not only using apps to do surveys on my phone, as I will go more into now.
Is it necessary to use an app to do surveys on the go?
If you have a favorite survey site, and the site does not have an app, there are good chances you can still use the site on your phone. On many survey sites that does not have an app, there is still a good mobile friendly design on the website itself. That means that you can just login to the survey site on your mobile and do the surveys like you would, if you were setting at a computer. One of my absolute favorite survey sites PrizeRebel does for example not have an app. I just have the website itself in a browser screen on my phone, and have asked it to stay logged in. Then I can very easily open and check, if there are any available opportunities, when it fits into my schedule.
The only disadvantage of doing it this way is that I will not get a notification when there is an available survey, as most apps give. But to be honest, I find the app notifications a bit annoying and stressful at times, so I often turn them off anyway, but that is of course a matter of personal preferences. So even if your favorite survey site does not have an app, there are good chances you can use it on your mobile. Apps can however have some advantages and give very good and easy overviews on the phone. So let's look into some of the best survey apps I have found.
5 Awesome survey sites with an app
Below you can find a list of 5 great survey sites that all have an app, and see if any of the apps or sites sounds like it fits your preferences. This is obviously not a complete list of all survey sites that has an app or of all the paid survey apps that exist. That would be way too confusing and overwhelming to have such a list. I have instead focused on 5 good and reliable sites that are all legit.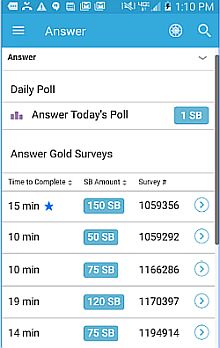 SwagBucks app:
SwagBucks is probably the biggest paid survey site and online reward portal in the world. It has more than 20 million users and is thereby a very popular survey site. SwagBucks also has an app that you can use to earn, once you are a member. If you live in a country were SwagBucks is available, it is definitely a site you should sign up for. The available countries are the US, UK, Canada, Australia, Ireland, Germany and France.
The SwagBucks app gives more or less the same options as you have on the website itself. You can earn by doing paid surveys, by watching videos, get huge cash back offers on online shopping, find local deals, and get paid to surf the web.
You have to join through the website itself, but then after that, you can download the app, login and start using SwagBucks on the go. You even get a high joining bonus of $5. SwagBucks pays out through PayPal, or you can choose from many gift cards.
==>Read more about SwagBucks and how to join<==
---
GlobalTestMarket app: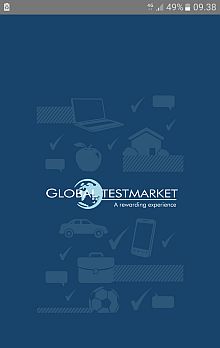 GlobalTestMarket is a survey site that only offers surveys and nothing else, so it is very simple and easy to use. Even though it is called Global, it is not available in all countries, but it is available in many countries. On top of being available in all the English-speaking countries, it is also available in all of Scandinavia, and for a long list of countries that often does not have very many survey sites to sign up for like for example Malaysia, India, Thailand, South Africa, Indonesia and many more. You can check the full list of countries on the website itself.
Be aware that not all countries where GlobalTestMarket is available can use the app for some reason. But if that is the case for you, you can just use the website on your phone. You will be receive and email every time there is an available survey, so it easy to just click the invitation link.
GlobalTestMarket is not the site that gives the most opportunities, as it has a limited amount of surveys. But as it is very easy to use, it can still be worth signing up for as an extra site, and make a bit extra. You can get paid through PayPal or gift cards.
==>Read more about GlobalTestMarket and how to join<==
---
Gift Hunter Club app: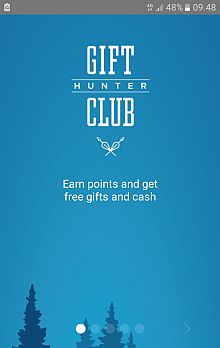 Gift Hunter Club is an interesting smaller survey site, and it is also has an app. The app is at the moment only available on Android devices. Through the Gift Hunter Club app you can earn by doing surveys, taking online deals and by watching videos. The website itself has more opportunities than the app, so to get the most out of it, you also have to use the website. But the app also provides good opportunities.
The app and the website looks very similar, which makes it easier to navigate on both. The app can however be a little confusing compared to the website. It gives a good overview, but when you are going to the list of available surveys, it can be a bit difficult to find the way back to the home screen. Not a huge problem, but just something to know, if you decide to use the app.
You can join Gift Hunter Club no matter were in the world you live, but there are most opportunities for you, if you live in the UK, the US, Spain or Latin America. You can get paid through PayPal or gift cards.
==>Read more about Gift Hunter Club and how to join<==
---
Toluna app: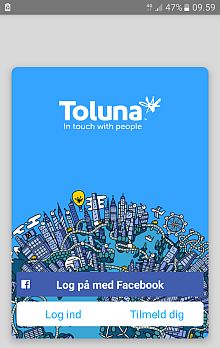 Toluna is one of the big paid survey sites. It is available more or less worldwide and also has an app. Toluna mostly offers paid surveys as a way to earn, but it also regularly has free contests you can participate in, and you can also earn by creating content and questions for other Toluna members. So in that way, there is also a social aspect to Toluna. You can also earn by voting for short polls created by other members.
On the app, it is mostly these short polls that is to be found, but the app is also very good for this, and the polls usually does not take more than a few seconds to answer, so it is easy to do once in a while. To get the full benefits and overview, it is however better to use the Toluna website itself. Personally, I only use the app for the short polls, and then use the website for the longer surveys.
Toluna has quite frequent surveys, and mostly at least 1-2 a day. You can get paid through PayPal, gift cards or products.
==>Read more about Toluna and how to join<==
---
YouGov app: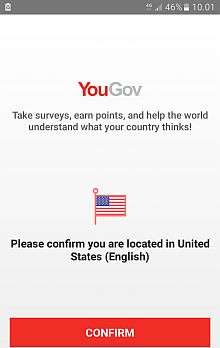 YouGov is a decent paid survey site, and it is available in many countries. It offers quite frequent surveys, and you can also use the app for these. The advantage of having the YouGov app is that you will get a notification, when a new survey is available. But when you click the survey in the app, you will be taken to your internet browser to do the survey. So not much different from just clicking the invitation link in emails that you get from YouGov. So having the app mostly makes sense, if you like getting notifications as soon as a new survey is available. The app also gives a good overview of your account and your earnings.
The biggest downside of YouGov in my opinion is that you earn points that can only be used for products. Even though there is a big selection of products to choose from, I prefer when survey sites offer the possibility to get paid in cash or at least gift cards. But that is of course just my preferences, and you might prefer being able to get paid in products, and then YouGov is definitely one of the sites with the biggest selection to choose from.
==>Read more about YouGov and how to join<==
How much money can you make on survey apps?
Here at the end I just want to clarify something about the earning possibilities on paid surveys. Whether you use a survey app or do surveys through websites, paid surveys is not a way to become rich or to make a living. I always make sure to mention this aspect, as it is important to do it with the right expectations to get success with paid surveys. It can make you some really nice extra money depending on were in the world you live and what sites you join. And it is probably the only way to make money online that is 100% free, and where you will get a profit from day 1 with guarantee, so I think it is a great opportunity, as long as you just do not expect it to make you rich.
If you have any questions, comments or have experiences with a survey app you think is missing on the list, I would love to hear from you in a comment below.